Magnifying glass is a useful tool for many scenes. It has a wide vision and can help you to get important information. You can also use a magnifying glass to read through magazines and books. Why to use the magnifying glass for reading books and newspapers?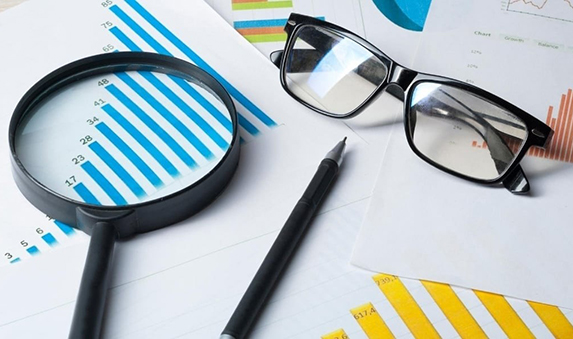 Why Do You Need a Magnifying Glass with Light?
Sometimes, the letter prints in books, magazines, or newspapers are so small that they seem to be unreadable. Due to the elderly and certain eye problems, including macular degeneration, the inability to read small print becomes an important problem. In some cases, printing on a medicine bottle, the information that needs to be read is crucial.
A high magnification magnifying glass for reading can solve this frustrating and potentially dangerous. With a suitable lighted handheld magnifying glass, you can use read the smallest font quickly and easily.
The Best Lighted Magnifying Glass for Reading
Improve Lighting
By simply getting brighter light you use, you can make a big difference. Reading in a dim environment becomes easier.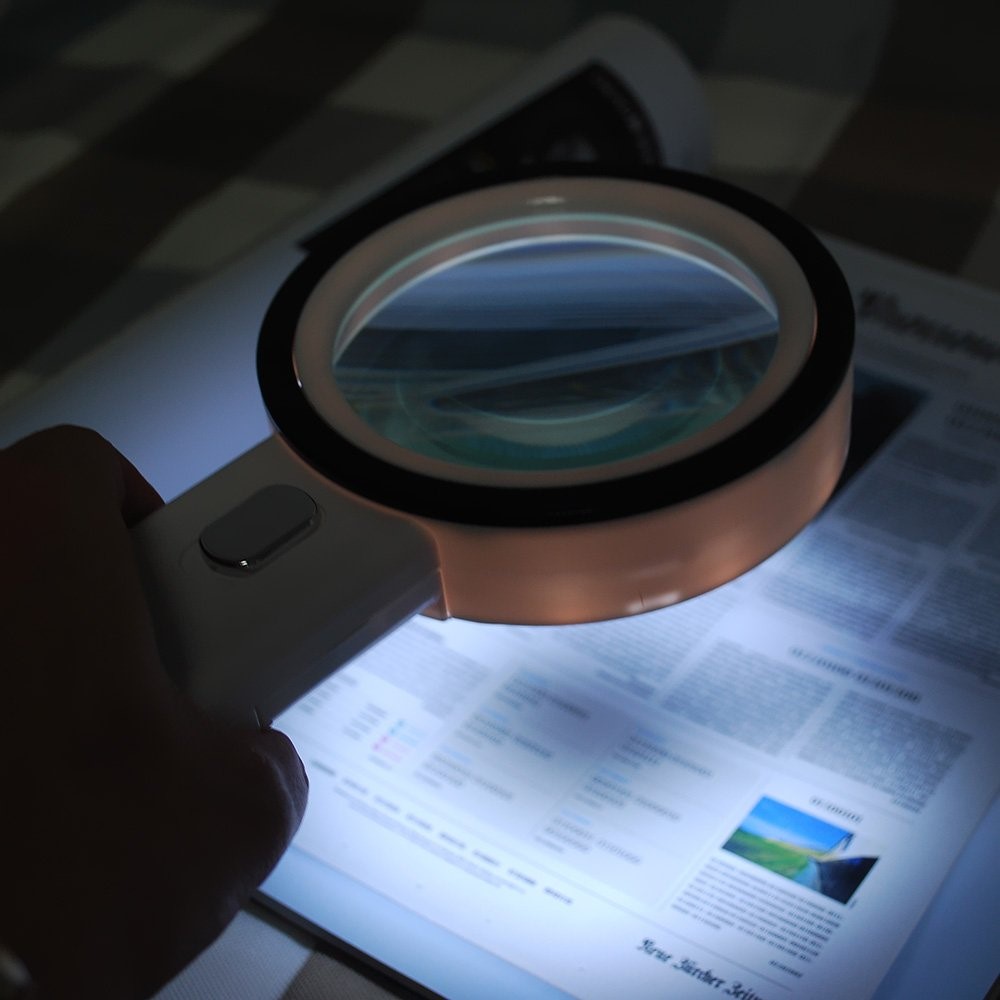 For the Elderly
Older people usually need high magnification and lighter to read. The magnifying glasses increase the size of the word. The best lighted magnifying glass for reading will also illuminate the page.
Feature of a Lighted Magnifying Glass for Reading
The illuminated magnifying glass is similar to a floor lamp and table lamp. They are adjustable, in addition to the light, they also have a high magnification magnifying glass that can be placed between you and the reading material.
The handheld illuminated magnifying glass allows you to read a book while obtaining magnification and reading light. Both lamp and desktop illuminated magnifiers can help, and which one is best depends on where you are reading.
The magnifying glass contains a convex lens to better see small objects. Magnifiers have many uses, from making it easier to reading small print and coin, jewelry collecting. There are many options for handheld magnifiers. It is important to choose the right one according to your needs and personal preferences.
Magnification
The magnification reflects how many times it can magnify the image. It is usually represented by a number followed by the letter X. This describes how many times the image displayed through the magnifying glass is larger than the actual image. If the magnification is less than 10 times, it is best to use for reading books and newspaper. A magnifying glass with 10X magnification or higher is best for situations such as crafts, welding and appraising antiques
LED Lights
One of the most convenient features of the magnifying glass is the built-in lighting. Many reading magnifiers have this feature and can read in the dark when the partner may be trying to fall asleep. The magnifying glass with led lights is necessary for some welding or meticulous craftsmanship. The hands-free magnifying glass may include 2 to 15 LED lights.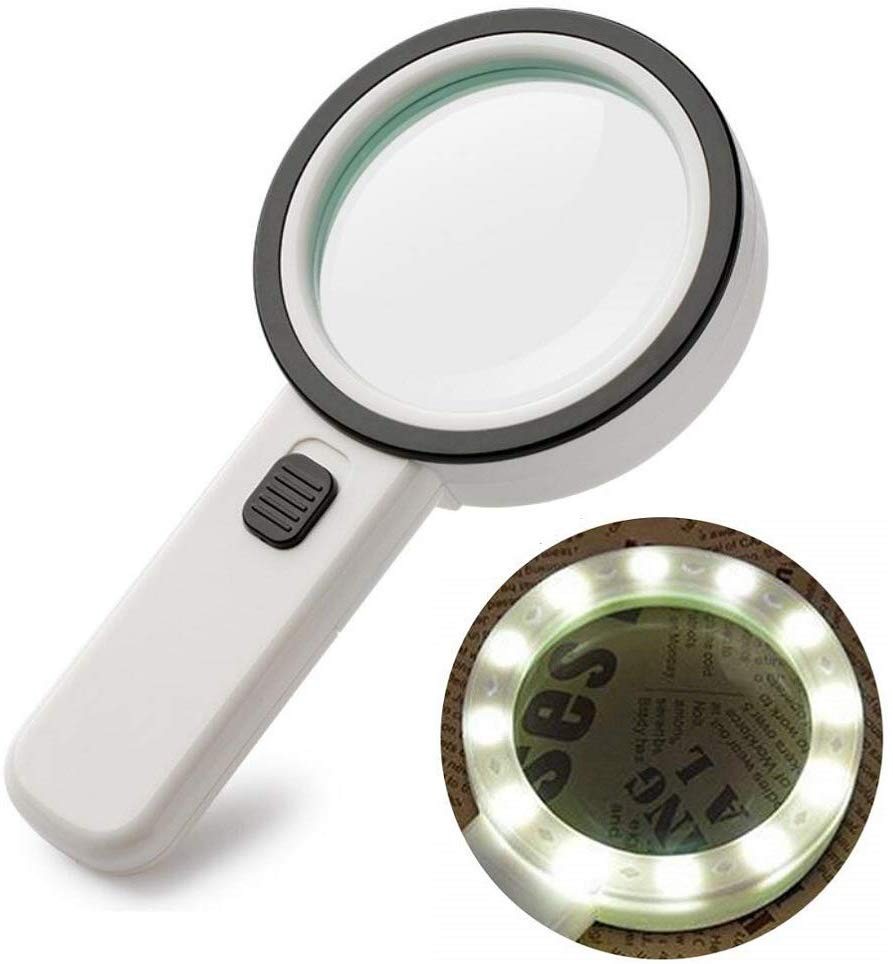 Accessories
Some magnifying glasses have additional accessories for easy transportation and maintenance. Protective covers and cleaning cloths are just a few of the available accessories.
The price of most magnifying glasses is between US$2~US$50. A $2 magnifying glass is a basic plastic handheld reading mirror. For less than $15, you can get a mid-range magnifier with a lens and a built-in light.
The battery life of a handheld magnifier is an important consideration
Choosing a reading magnifier with a long battery life is an important factor. It can make a huge difference to your reading on the go or at home. The illuminated LED magnifying glass equipped with 2 AA batteries can last for more than 1 year in the case of the maximum daily reading time.
AIXPI 30X handheld magnifying glass is an excellent choice for reading books, magazines, newspapers, checking coins and jewelry, and other craft. The 12 LED lights around the frame provide sufficient lighting to illuminate whatever you are looking at. You need two AA batteries to turn on these lights.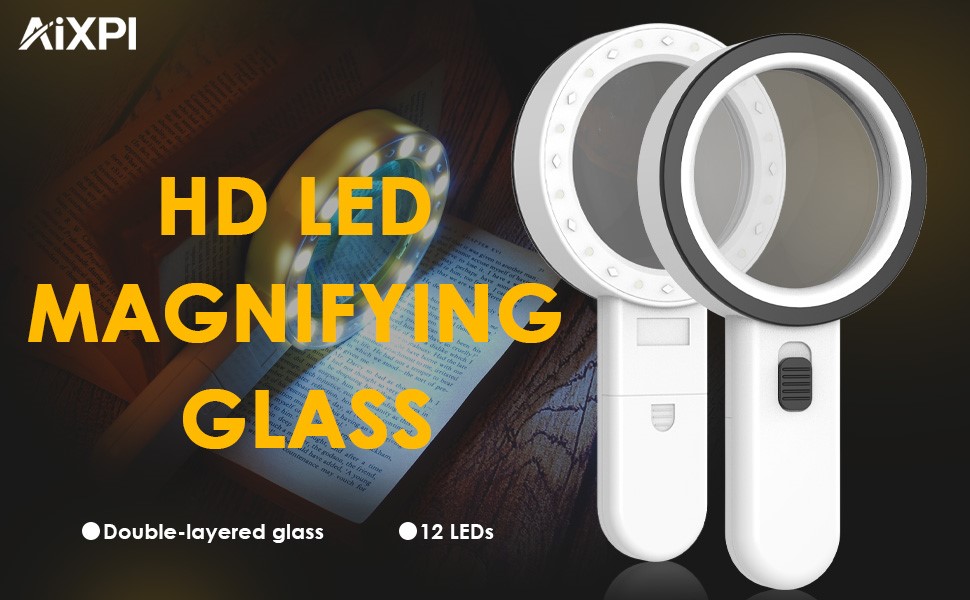 Size:
It is small enough that you can easily carry it. The lens is 3.1 inches wide and the frame is 4.2 inches wide. The total length including the handle is 8 inches.
Feature:
Compact, easy to store and carry.
Built-in LED lighting.
Sufficient magnification, suitable for reading and various hobbies.
Hands-Free Large Rectangular Magnifying Glass
This is the best reading magnifier. Its large size (11.8 x 8 inches) and rectangular shape allow you to read full pages of books or magazines without moving the magnifying glass.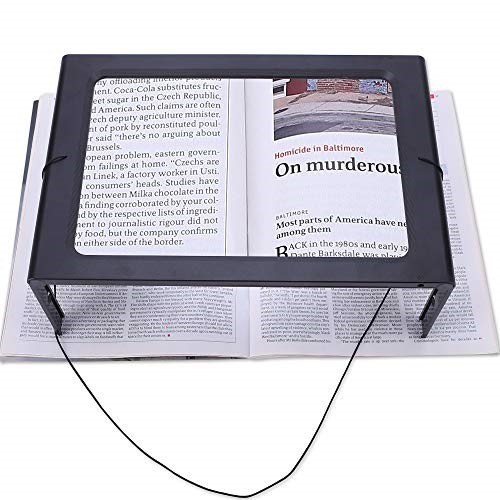 Bracket
And you don't need to hold a magnifying glass at all. It comes with a folding bracket to fix the glass plate on the book page. It can free your hands when you are doing some work that requires the assistance of others. But the height of bracket is determined. For different books or different people's reading habits, it may not be so comfortable for everyone.
Magnification
The magnifying glass has a magnification of 2.5 times, which is enough to enlarge small text to a comfortable size. It also has 12 LED lights around the edge to illuminate the reading area. There is a toggle switch to adjust the light.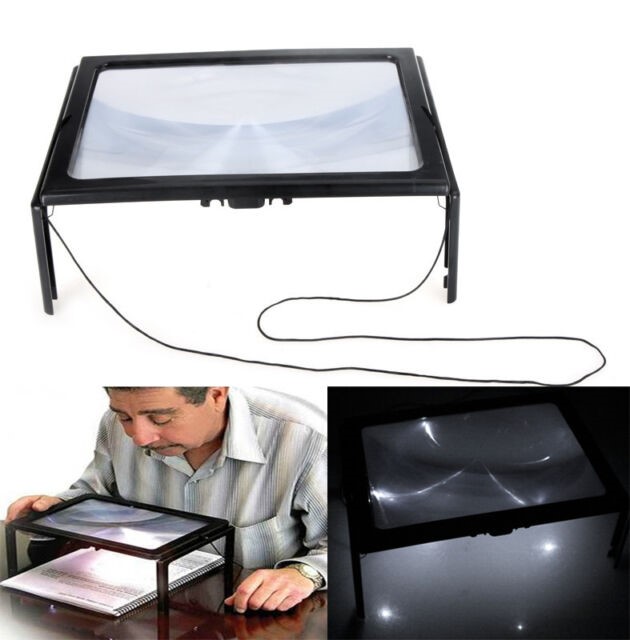 Some people prefer to use a hand-held magnifying glass to read newspapers. When you use it as a crossword puzzle, the inconvenience really increases. You must hold the puzzle, pencil and magnifying glass at the same time, and you may not have extra hands to hold the magnifying glass. For reading, the effect of holding a magnifying glass will be better. When playing Sudoku and jigsaw puzzle, an illuminated magnifying glass with a stand may be more suitable.
The Bottom Line:
What is the best magnifying glass for reading? You need to consider the advantages of the illuminated magnifying glass in this article and find the most suitable item for you. Personally, AIXPI is an excellent budget and friendly handheld LED illuminated magnifier for reading. It will be equipped with a textured handle, replaceable batteries, LED lights and a 1-year warranty. It can help you solve any problems in reading books and newspapers.
Related Articles:
The Best Illuminated Reading Magnifier