You want to only spend a little time taking a good photo. Your hairstyle and makeup can always look beautiful on Instagram, and your background and clothing are no longer the most important thing to be paid attention to. Perfect lighting is the key for Instagram photo. You can bring thousands of positive reviews to your Instagram photos just need a ring light for YouTube Instagram influencer.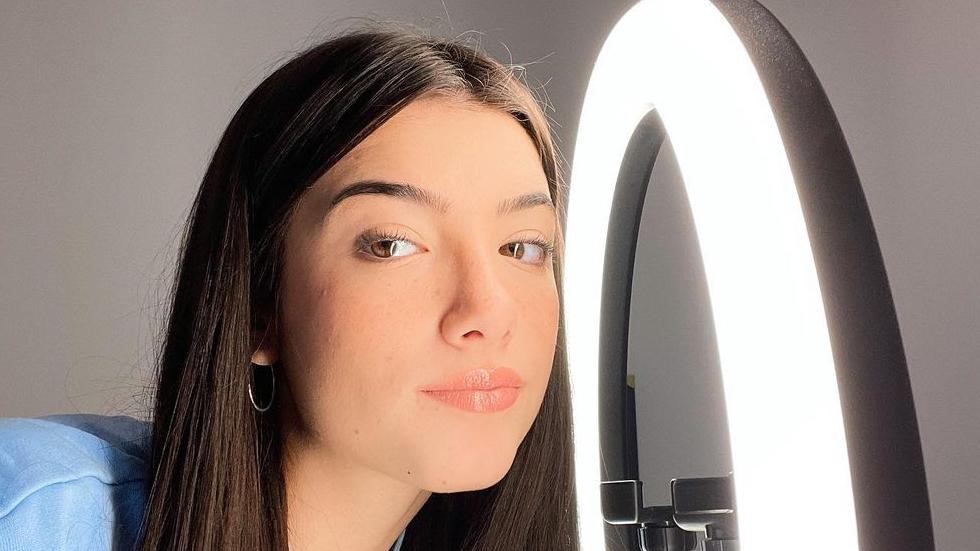 Why Are Social Media Influencers Using Ring Lights?
Firstly, the ring light is circular, and there is a snap in the middle to set up your camera. It diffuses the Illuminated lights to a wider area instead of sending a beam directly to your face, thereby reducing glare. Whether you are an individual or a photography team, you can setup professional lighting of the live streaming studio yourself.
Secondly, a camera or mobile phone placed in the middle and provide an even spread of light, and you can get a well-lit image from almost any angle. Only a Dimmable LED ring light with tripod can replace many professional photography lighting tasks.
If you haven't plan to spend more than twenty dollars on it. I saw a micro selfie light clipped to your phone on it. The ring light is with lazy bracket very easy to use. It has three different lighting settings, you only need to clip the lamp to any surface, conference table or mobile phone, let it only focus on illuminating your face and around the lens, allowing you to get a perfect Instagram makeup looks.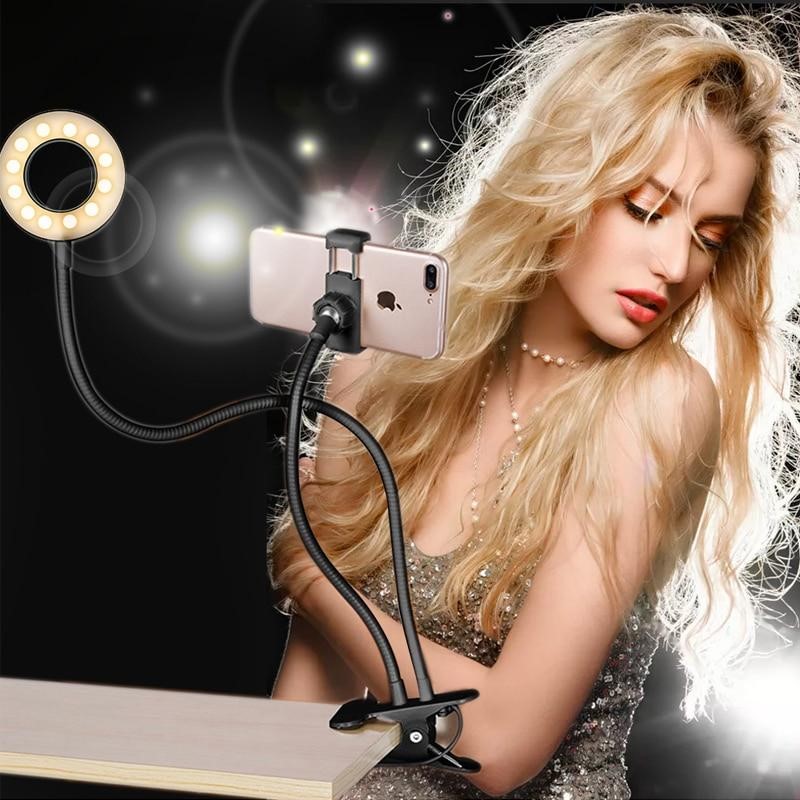 Unlike the larger ring lights, this ring light is slim and not bulky at all. You can easily wrap it up and take it with you.
This 10-inch RGB ring light takes on a new meaning to the rock style. It allows your Instagram photos to become a bold and exaggerated symbol, with red, green & blue color pickers, seven unique colors can be realized by adjusting buttons, and allows to set your mood for selfies through the color picker, and to get the colors of the rainbow photo. It is equipped with a photography tripod, extension pole and phone clip holder, which can help you fix the camera and photography equipment when shooting.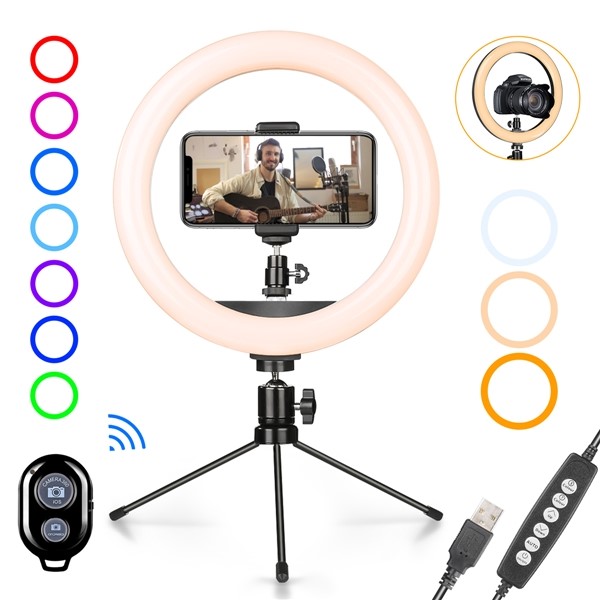 The stand tripod of the desktop ring light is easy to adjust and setup. If you use mobile phone for Zoom calls or Instagram live broadcasts, there is a built-in phone holder in the center of the ring to keep the phone in the center of the light. The uniform ring light makes your photos and videos look amazing. Depending on your settings, the tripod can be longer or shorter, or even short enough to fit your desk!
These ring lights are as easy to use as a smartphone, you just need to connect to the USB port and turn it on.
If you are looking for a ring light for Instagram video and photos or creating content for TikTok, a 10-inch ring light kit with Bluetooth and tripod is the best choice.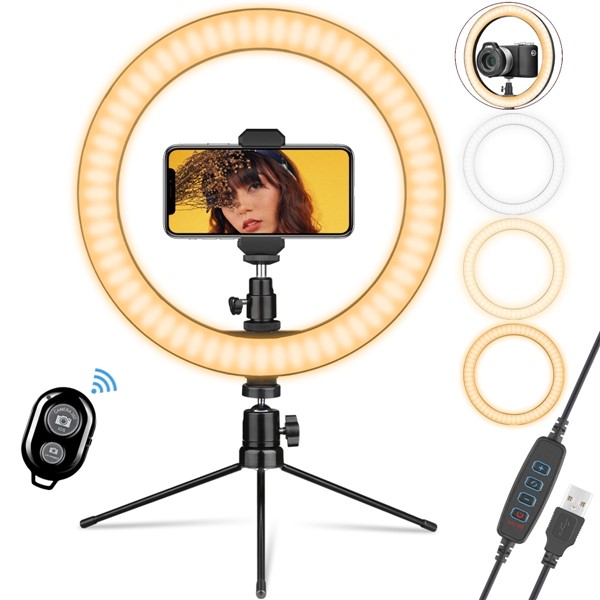 When you are making Instagram TikTok photo, vlogging, or taking selfie, connecting your LED ring light to a tripod is the best way to get beautiful and stable photos or videos. You don't need to find an assistant to adjust the phone or press the shutter for each photo, a Bluetooth shutter can help you complete the shooting yourself.
This 10-inch ring light with stand and Bluetooth is the favorite of makeup artists and Instagram influencer, enthusiasts, because it saves a lot of time when editing on Instagram.
You don't need to spend more than $20 for most ring lights for streaming. There is a unique event for prepare Christmas gifts, you can automatically get a 10% off if you purchase 2 items on AIXPI Store. Don't forget to surprise your friends when buying something you like.
How to Bring More Followers to Your Instagram Page?
Having a camera equipped with a high-end lens will definitely help a lot.
It's also important to have the necessary photography skills, backgrounds, and costumes to be unique and attractive
Good lighting is something that is highly accessible and can greatly improve the quality of photography.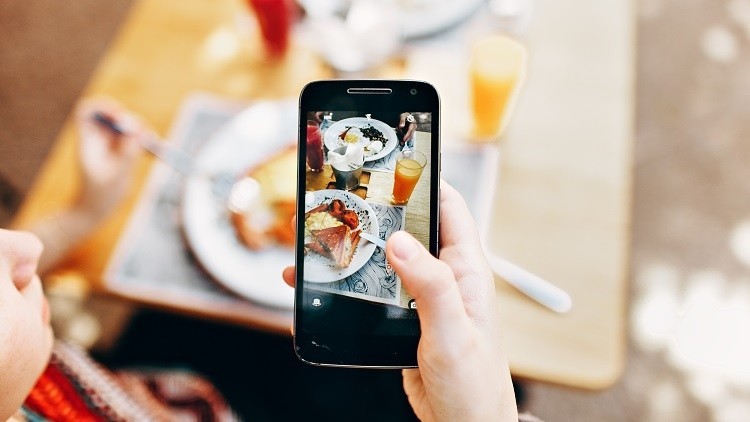 Ring lights provide you with a good and uniform lighting for your Instagram scene, increasing the possibility of obtaining high-quality photos and videos. They are economical, and portable and easy to set up generally.
The increasing popularity of video creation on social media makes the ring light for Instagram videos more and more common. Set AIXPI ring light for your Facebook live or Instagram feed. It provides good lighting for video and photo photography.
Related Articles:
What is the Best Ring Light for Videos
How to Get Better Lighting for Live Streaming
What Ring Light Do for TikTok