Many people want to be bloggers themselves, so that they can help uslearn new skills, and they can also use the remaining extra income to improvetheir quality of life.
Many self-righteous bloggers are bright, or they are bloggers withfresh technology and their own. In the Internet age, as long as you areinterested, you can also be a host if you have the heart to share.
Of course, being an anchor is inseparable from taking pictures andvideos. In fact, in many cases, we need a mobile phone. For those who are juststarting out, they may not need such complicated shooting equipment.

You can startfrom the simple. If you feel the need in the future, you can buy or use moreadvanced equipment.
We can see that the videos with high playback volume have one thing incommon, that is, the video is clear and the picture quality is high.
How to shoot clear and beautiful video, lighting is very important.Without sufficient light, the resulting photos and videos will not be clear andthus fail to attract fans.
AIXPI 6" Selfie Ring Light with Tripod, Phone Holder and Selfie Stickfor Live Streaming/Photography/Makeup, Dimmable LED Ring Light 3 Modes 10Brightness Levels for TikTok, Youtube, Instagram.
Dimmable Ring Light
AIXP 6 Inch Selfie Ring Light with Tripod Stand & Phone Holder &Selfie Stick for Live Stream/Photography/Makeup has 3 color lighting modes: warm (3000K), daylight (4500K) andwhite (6000K), each mode has 10 brightness levels, the ring light will meet allyour needs in different situations. It comes with two tabletop tripods, hotshoe mount, phone clip, selfie stick and remote.

When shooting, you can adjustthe AIXPI 6 Inch Selfie Ring Light with Tripod Stand mode, in which light modeyou can see different effects. Generally speaking, warm light will be morewarm, and white light will have a brightening effect.
Universal Phone Clip and Extended Selfie Stick
You can easily adjust the phone stand to find the angle you want(horizontal, vertical). The phone holder extends up to 3.3 inches wide and iscompatible with most smartphones. Multiple Adjustable Stands in DifferentHeights: Extends from 8" to 38" in height.
widely used
With AIXPI 6 Inch Selfie Ring Light with Tripod Stand mode, it is idealfor live streaming, vlogging, selfie photos, video quality. Especially if somepeople need to shoot close-up and video photography, it can be used.

It is alsoa good choice if you want to make up, AIXPI 6 Inch Selfie Ring Light withTripod Stand mode helps you to make up perfectly.
USB powered
AIXPI 6 Inch Selfie Ring Light with Tripod Stand mode works with mostdevices that support USB ports, such as laptops, PCs, power banks, USBchargers, AC adapters, etc.

That is to say, it is very convenient for you touse it in any scene, and you don't have to worry about the charging problem dueto the incompatibility of the battery.
Ring light 360° rotation angle
The adjustable 360° swivel tripod head lets you find the perfect angleto illuminate your subject, making your photos or livestreams a breeze. It isinevitable to find a suitable angle for the video we shoot. If you are notfamiliar with the angle at the beginning of shooting, then you must constantlyadjust the angle until you find a suitable angle.
Sometimes the subject of the video you shoot is different, and theangle you are looking for is different, then you can adjust the angle of thering light to provide you with sufficient fill light, so that your lightingwill be more uniform, and there will be no dark side bright condition.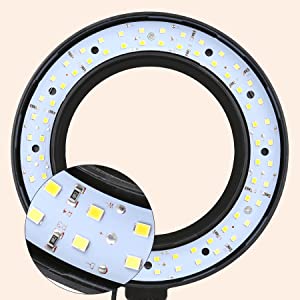 Heat dissipation and energy-saving heat dissipation hole designprolongs LED life.
The AIXPI 6 Inch Selfie ring light uses heat-dissipating energy-saving holes, whichcan prolong the life of the LED and will not cause the ring light todeteriorate easily due to heat accumulation. With the AIXPI 6 Inch Selfie ring light, you can take pictures with you for a longtime.