What size ring light should I buy? I was thinking about 18 inches, which is ideal for my studio. It can meet my needs most of the time. But if I want to take it outdoors, it looks very heavy. I was just confused from the beginning and kept my budget under $150. Perhaps you are also facing such a problem: What size ring light do you need? This article can help you.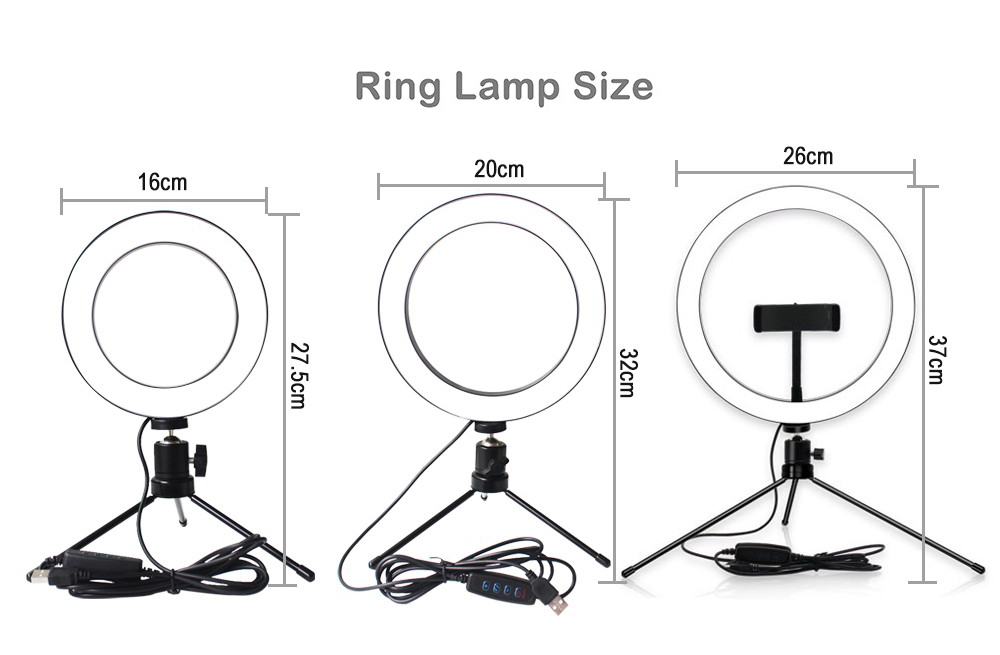 The fill ring light is usually called a live streaming ring light. This kind of photographic fill light is usually used when there is a lack of lighting during shooting. The purpose is to provide necessary auxiliary light to the shooting scene to achieve better shooting effects. In the past, we used the fill light made of halogen bulbs, but now the LED fill ring light is the most popular. The led ring light has the advantages of small size, long life, high luminous efficiency, practicality and energy saving.
AIXPI Ring Light for Live Streaming
AIXPI LED ring lights are 6 inches, 10 inches, 12 inches, 14 inches, 18 inches, etc. The size is related to the number of lamp beads. Generally, 6-inch ring lamp with lamp beads above 70, and the 10-inch LED ring light has 128 LED beads or more. What size ring light best for makeup? For personal makeup, 6-inch and 10-inch are more popular, mainly because of small size and light weight, making them easier to carry anywhere. Moreover, ring light for makeup artist only needs to illuminate the face and the table, and does not need a larger light to fill light.
14-inch and 18-inch or even larger selfie ring light are very popular with video live broadcasts. There are many sizes of fill ring light. Choose the fill light size that fits your need, which can make your videos, photos and your work better. Usually in portrait and product photography and video recording, we will need a large ring light of 14 or 18 inches or more.
If you are looking for a cheap ring light for basic makeup or night lights, then a selfie ring light will solve the problem.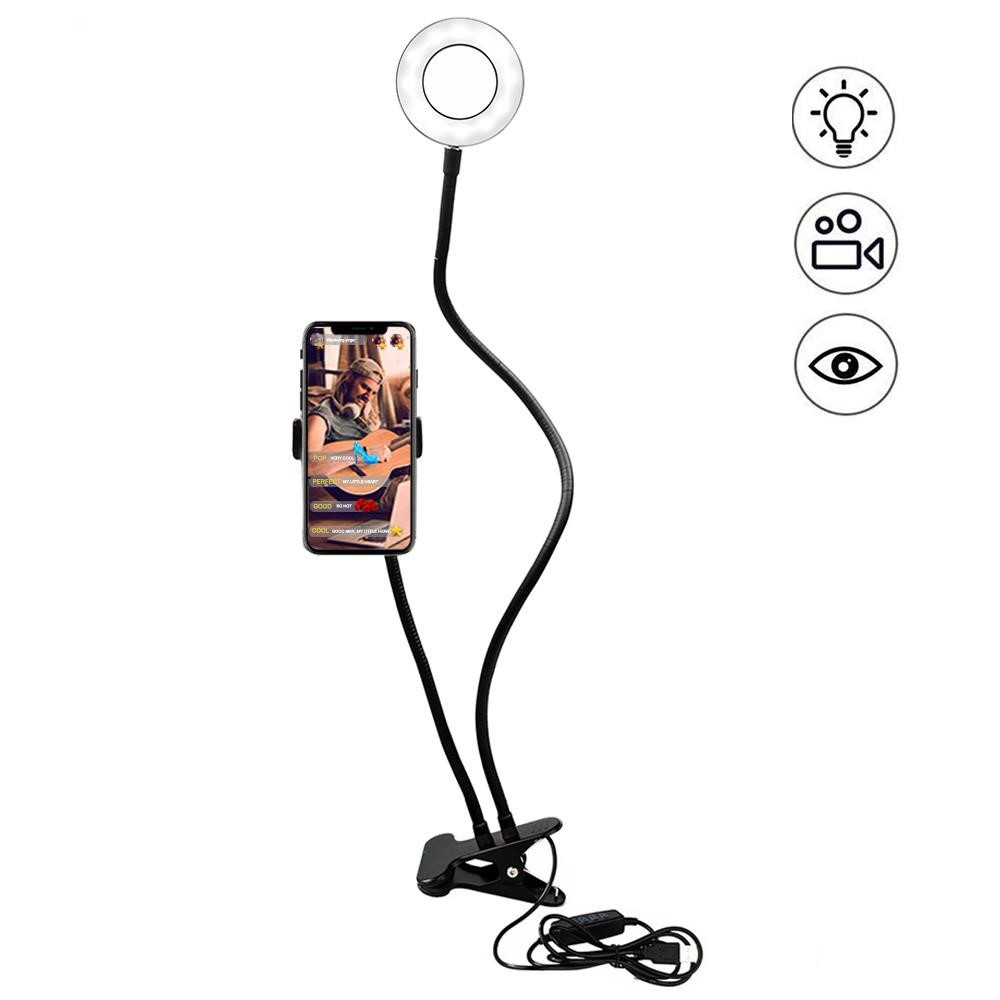 It is with 3 modes of LED lights (white, warm, yellow) and It only sells US$24.9. Not only it is one of the most affordable ring lights on the market, also very portable and easy to use. The 22.5-inch Lazy Bracket with LED light can clamp your phone. When you lie on the sofa, it can be used as a lazy bracket. Clamped on the desk, it can be a night light to illuminate at night.
The dimmable ring light provides you with 3 different lighting modes, including warm, cool and warm yellow. After selecting the mode, you can choose from several different brightness options with 10 levels of brightness to find the ideal light for your environment.
If you want to use it hands-free, a tripod stand is the ideal accessories, it can be extended from 3.14 inches to 38.89 inches high! When you want to put it on the table, just assemble the light on the tripod. If you want to use a floor stand, you can assemble the selfie stick to the tripod to build a retractable ring light tripod.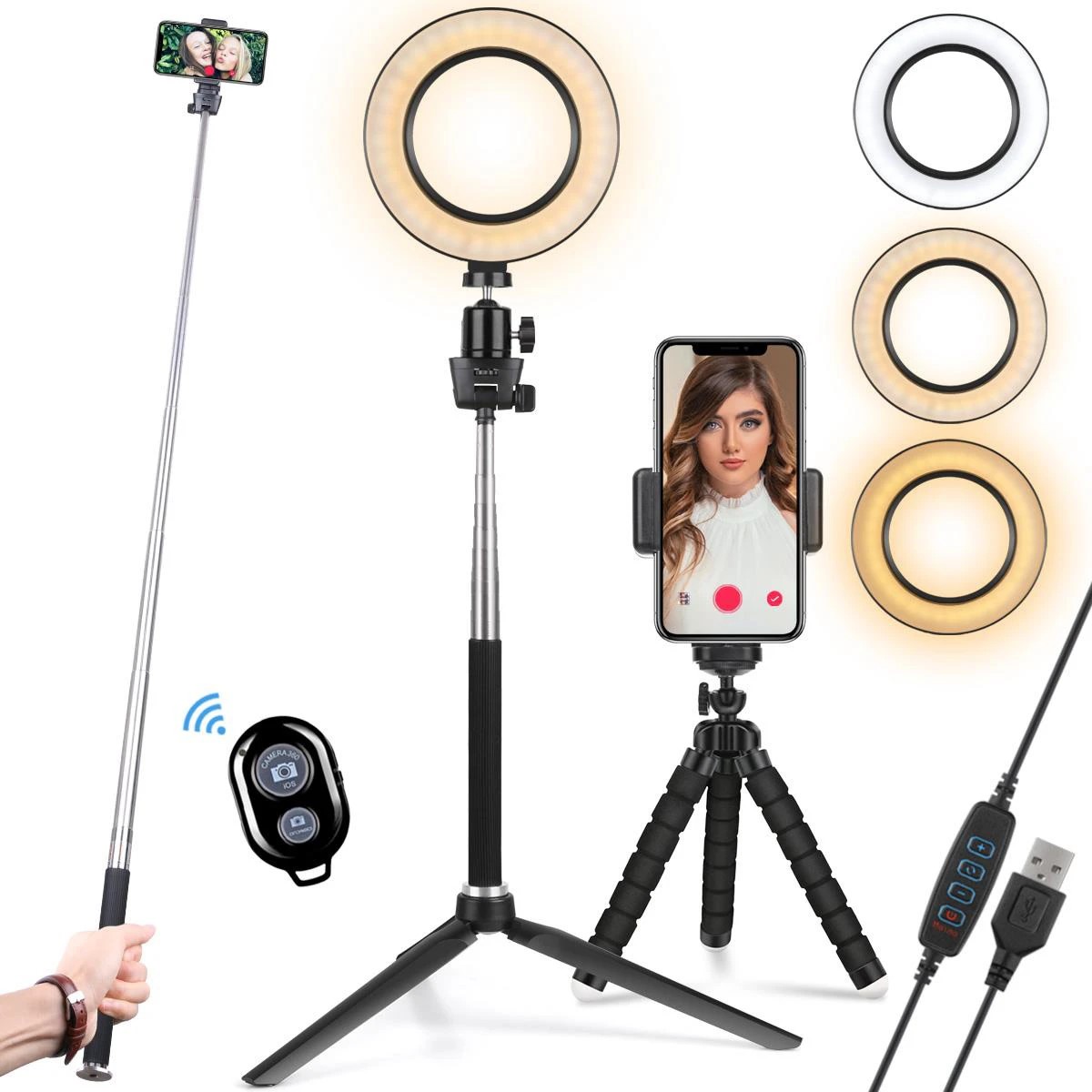 This small size ring light equipped with a desktop tripod and selfie stick is designed for makeup and selfies. Only need a ring light to adapt to your multiple needs. The 6-inch ring light also determines that it is not suitable for large video live studios and outdoor photography.
The ring light have a colors temperature of 3200-6000k, and the 30-level brightness adjustment allows you to find a light that is very suitable for makeup art, especially in cloudy days or when there is no natural light.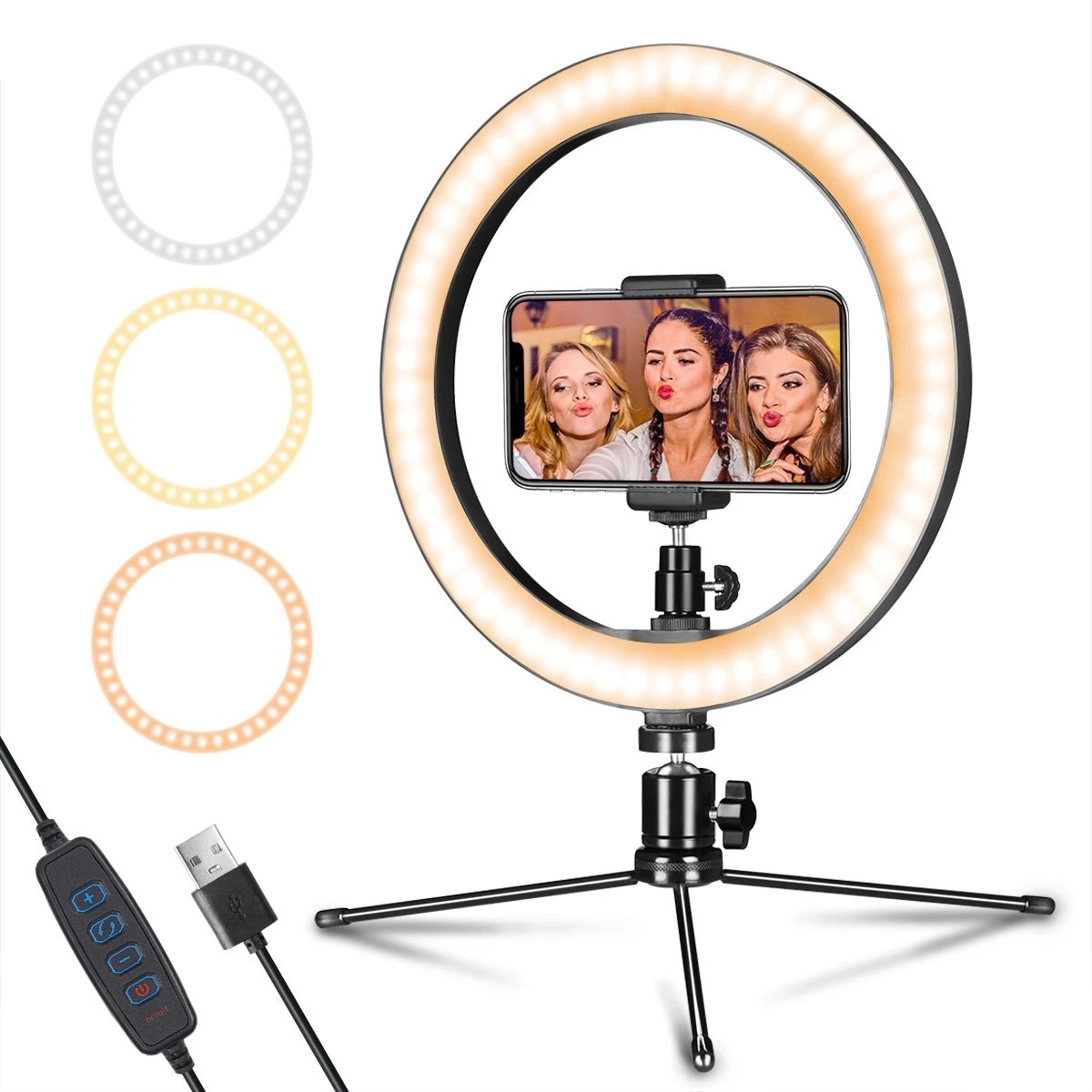 This ring light comes with a mini tripod, which can be conveniently placed on the table while you are putting on makeup. The light can also be rotated 360°, so whether makeup or taking selfies, you can place fill light at the perfect angle to do your YouTube makeup tutorials. Simple charging settings, you can plug the USB power cord into the power adapter or mobile power bank. You will be able to enjoy LED ring light at any time freely!
1. The 18-inch large size fill ring light has a wider and brighter lighting range. It provides uniform lighting, and it can also reduce the appearance of unnecessary shadows, emphasize details, and even create certain colors effects. It is very suitable for large creative studio and Wedding shooting lighting.
2. Circular design, 360° to create uniform illumination in all directions.
3. LED light beads creates natural lighting effect, energy saving and high efficiency.
4. Colors temperature and brightness adjustment. Create personal charm style, wire control design, freely adjust the brightness and colors temperature of the ring light.
5. The universal 1/4" screw mini ball head is easy to install and operate. Therefore, the ring light with tripod stand is best to be opened and stored, and assembly is also very convenient. The dual-camera setting allows video live on multiple platforms at the same time.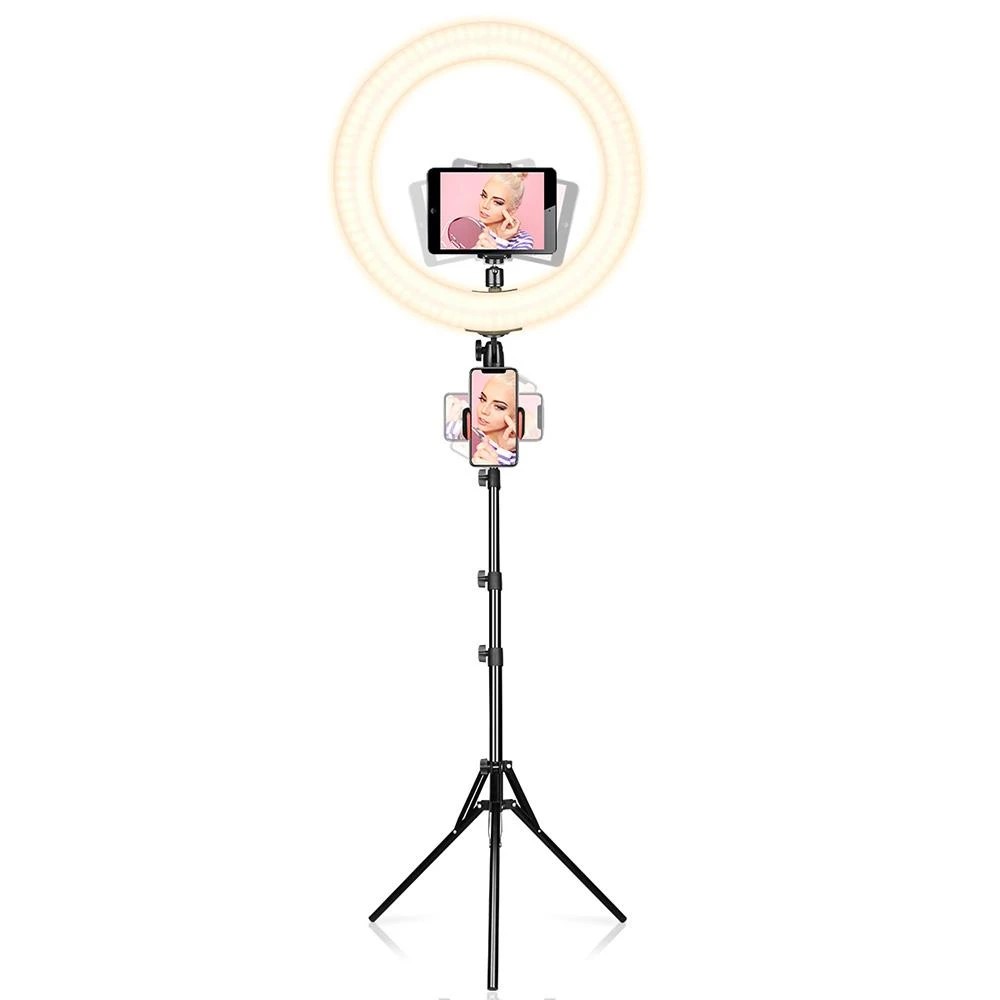 Does it come with a bag? tripod? mobile phone holder? camera holder? Can an AC power adapter compatible with your country/region? These are the standard accessories that should be included with the ring light. AIXPI ring lights provide the most comprehensive accessories for ring light models. This includes ring lights, phone and camera holders, tripods and AC adapters. Handbag that can hold all accessories allows you can easily carry your ring light kit to any shooting location.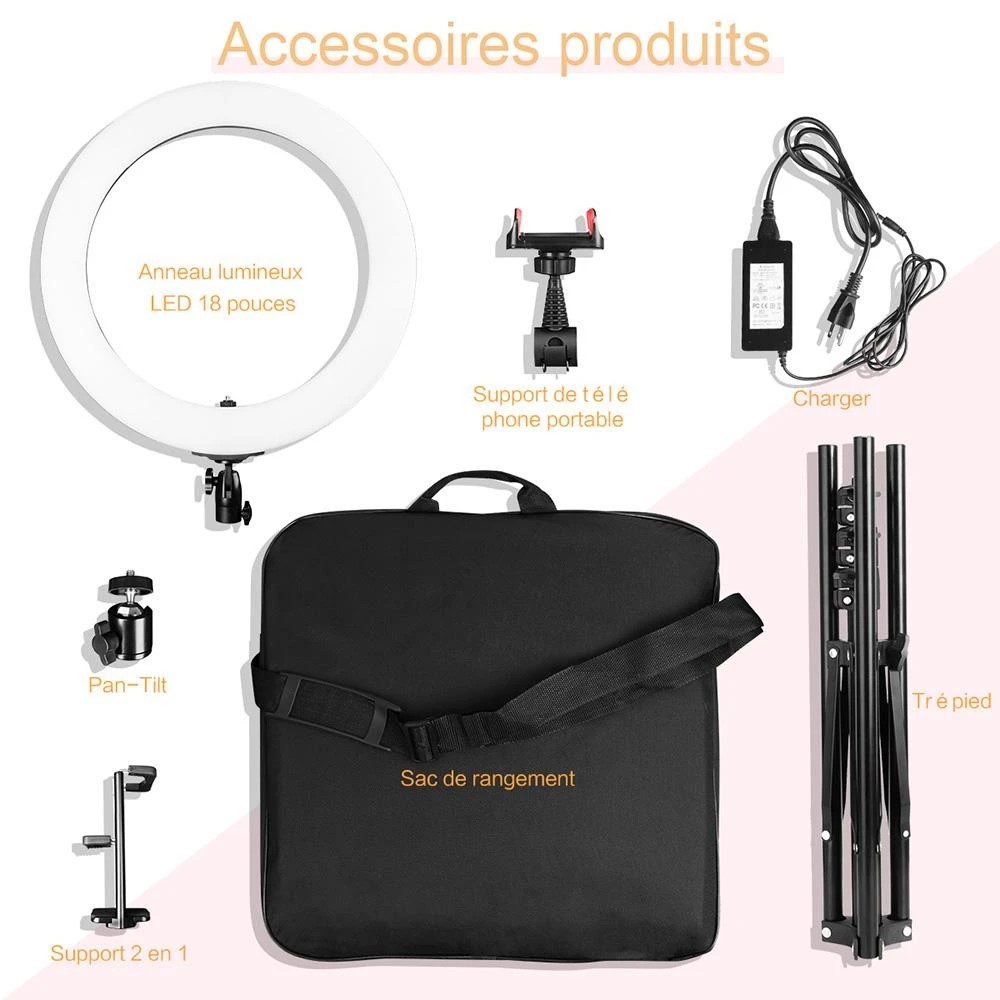 Summary:
What is the best size ring light for videos? Taking into the quality and easy to use. It is recommended to use large-size floor stand tripod ring lights of 12 to 18 inches or more in live streaming studio and beauty studios, wedding photography, etc. And its powerful lighting and convenient operability make it fully meet the lighting needs of indoor life shooting and micro movie recording. For makeup artist and selfies lighting, you can consider a desktop 10 inches ring light or smaller.
Related Articles:
How to Choose the Best Ring Light for Personal Use
The Best Ring Light for Makeup
How to Set Ring Light for Cooking Videos