Many makeup artists and video blogger use ring lights provide the most uniform lighting. The most common way to set up the ring light is to build the camera into the ring light, just like DSLR and smart phone settings, you can take pictures or make-up live streaming. With this type of lighting setup, you will use the ring light as the main light. So what accessories do you need as a ring light spare part?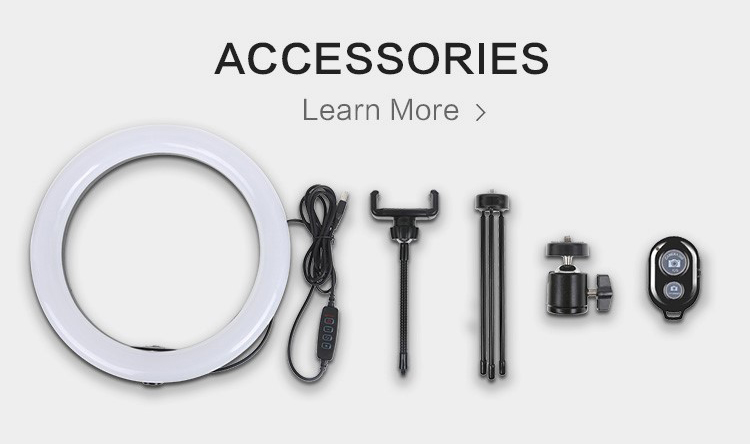 One advantage of using ring lights for photography is that you can use them as flash or continuous light sources, especially when shooting outdoors and lack of power, you may only need a power bank.
Many YouTubers use ring lights in their live studio. It can create a soft lighting environment without too many settings, and can brighten the video even in the absence of natural light.
The ring light for live streaming has 3 color lighting modes, such as warm light, cool white and daylight, each with 10 brightness levels, ranging from 3000K-6000K. In addition, this Selfie ring light with dimmer allows you to adjust the lighting to suit your subject and help you take better photos.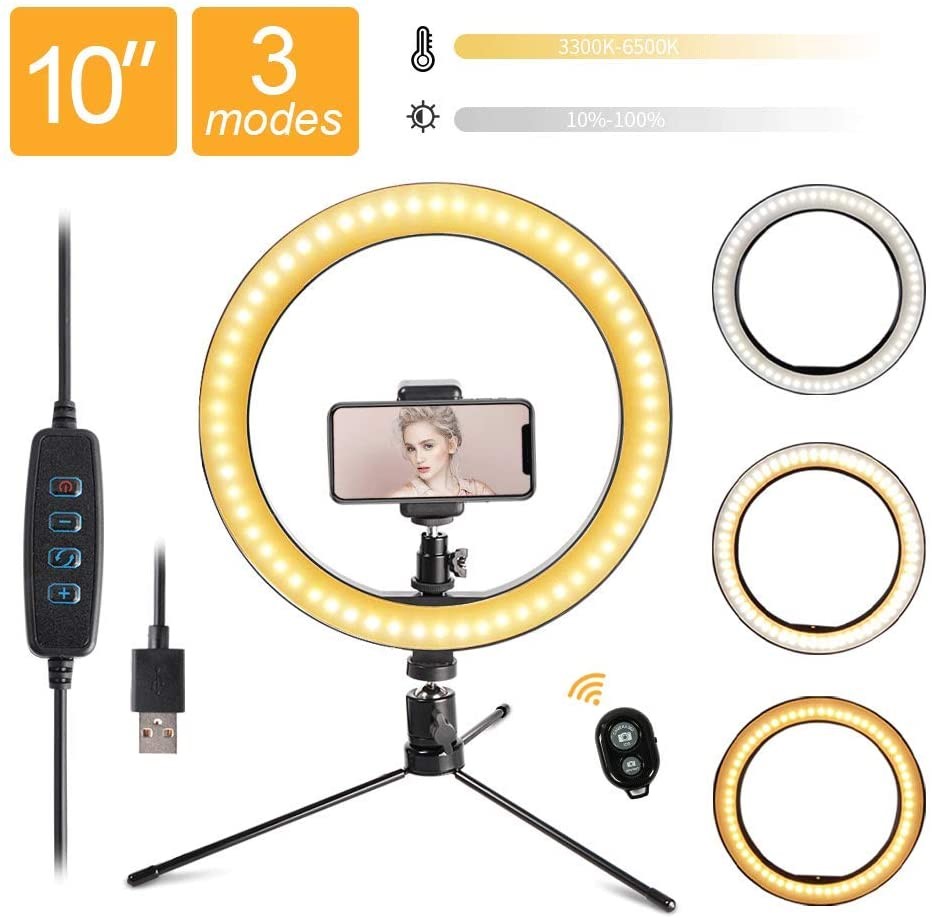 If you are using the USB LED ring light, you don't have to worry about overheating or running out of battery power, you can keep them lit outdoor and adjust the color temperature in your video only with a power bank.
When beginners use cameras to shooting, the biggest problem they face is unclear picture due to camera shake. If the photo needs to shoot fixed a distant scene, you will need a tripod for the digital camera and ring light, which can fix the LED ring light, and stabilize the camera in the center of the ring light, create a ring lighting around the camera to make the object has a uniform and soft lighting effect.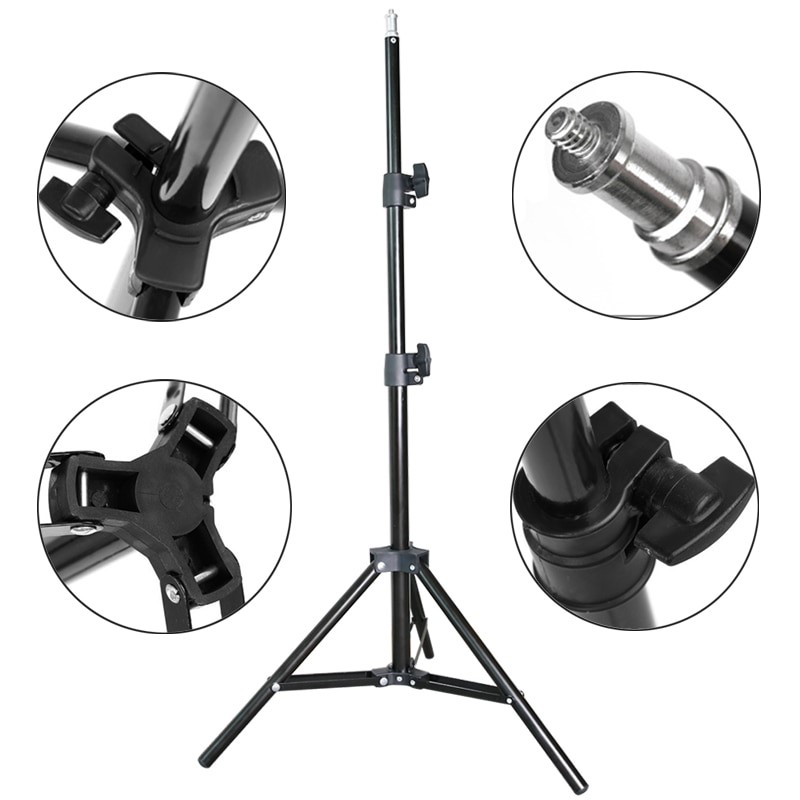 There are tripods that can be extended from 16 inches to 52 inches, and most of the ring light tripods mainly provide strong portability. Multi-folding and folding, the tripod can provide a safe place for you to place the ring light during use. The tripod bracket is stable and will not cause the risk of falling of the ring light. You can adjust the stand to a convenient height and use it on the floor of the desktop. The multifunctional ring light triangle bracket will always surprise you!
Universal Mobile Phone Holder
The universal mobile phone clip also allows you to install any smartphone on the ring light. The phone holder is compatible with all kinds of smart phones, and can provide fixed clips for mobile phones and iPads. This mobile phone holder is compatible with almost all smart phones, iPhone X/8/7 plus/7/6/6s/5/5s/4/4s/iPad mini/ Samsung and Google Pixel Phone etc.
For: Mobile Phone width 58-90mm
iPad width 110-185mm
The universal 1/4" screw ball head is made of aluminum alloy, which is light and durable. It can be used with cameras, tripods, LCD monitors, ring lights for video, etc., and can be rotated 360° as you need. You can install it using a hot shoe or a 1/4-inch screw.
Just loose the knob, you can rotate, tilt and shake the device completely and smoothly. The tilt design can adjust the angle of the angle lamp and the phone clip at will to find the best shooting effect.
The portable mini ball head with 1/4-inch screw is compatible with most cameras, ring lights and tripods, etc. Screw the mini ball head to the tripod, then screw the camera, ring light and other equipment on the tripod.
Bluetooth Remote Control
All you need to do to take a photo or take a video is equipped with Bluetooth remote shutter control. It uses a Bluetooth remote controller and you can release your hand to shoot without being disturbed.
Accessories Kit Bag
Everything is packed into a handbag, and it is designed to hold this ring light, so it fits all the accessories of this ring light perfectly.
Top carrying handle: Two strap handles on the top of the bag provide comfort.
Adjustable shoulder straps: wide adjustable shoulder straps with sliding pads can improve comfort. Pick up the bag and can bring the 18 inch ring light kit to the any position in the live streaming studio or outdoor studio to start building your live studio.

AIXPI ring light top brand, suitable for those who like live streaming. It is easy to use, assemble, carry outdoor, switch lighting modes, turn on/off power, and adjust brightness levels. In the packaging of the ring light, you can find a ring light, pan-tilt, phone holder and tripod. A wireless remote control is optional accessories can provide in the box. You will also get an 18-month warranty.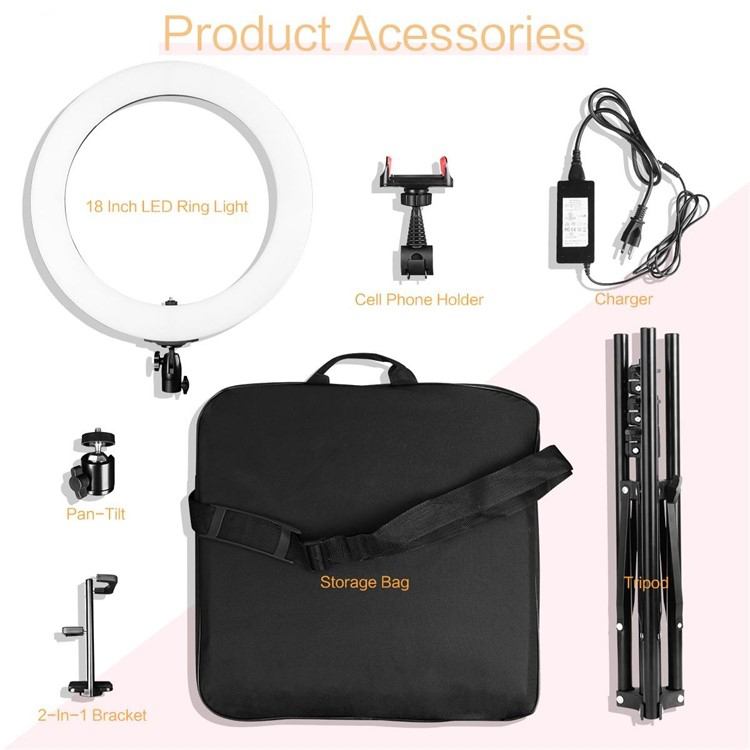 In addition, if any part of the ring light kit you own is broken but you do not want to replace self-ring light vlogging kit, then you can find Ring Light Replacement Parts at AIXPI.COM
Conclusion:
Whether you are shooting portraits in the studio or macro photos of outdoor or gourmet food, adding a ring light to the lighting kit will improve your lighting greatly. Most ring lights come with many rings light attachment for tripod to help you perfect photography skills, they are all necessary for beginners.
Related Articles:
How to Choose the Best Live Video Streaming Equipment
How to Choose the Best Video Tripod in 2020