The size of the ring light you need will depend on your needs. The small-sized ring light provides portability, but the irradiation distance and light range are limited. The 10-inch ring light is considered a "selfie light". A large ring light with stand may illuminate a small to medium room rather than a single face. If you need the professional lighting of the studio, the big size ring light can serve you well.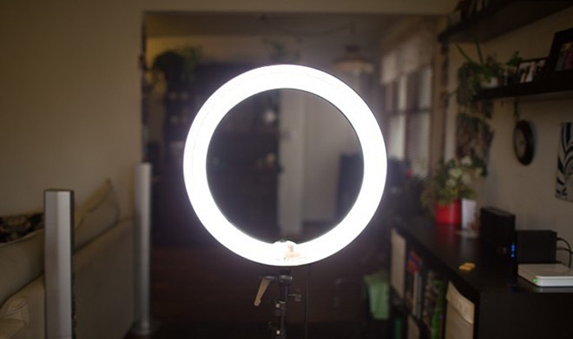 What is the Most Common Size of Ring Lights?
The ring light size refers to the smaller inner diameter.
The most common sizes of ring lights are 10 inches and 12 inches. The 10-inch ring light is considered a "selfie light". An 18-inch lamp may illuminate a small studio rather than a single face.
The larger ring light can accommodate more LED bulbs and increasing the light output. The big diameter ring lights also distributes the light in a wider space.
What is the Best Ring Light Size for a Large Space?
Some of the largest ring lights are 18 inches and may help supplement lighting in large rooms. 14 inches is another common size.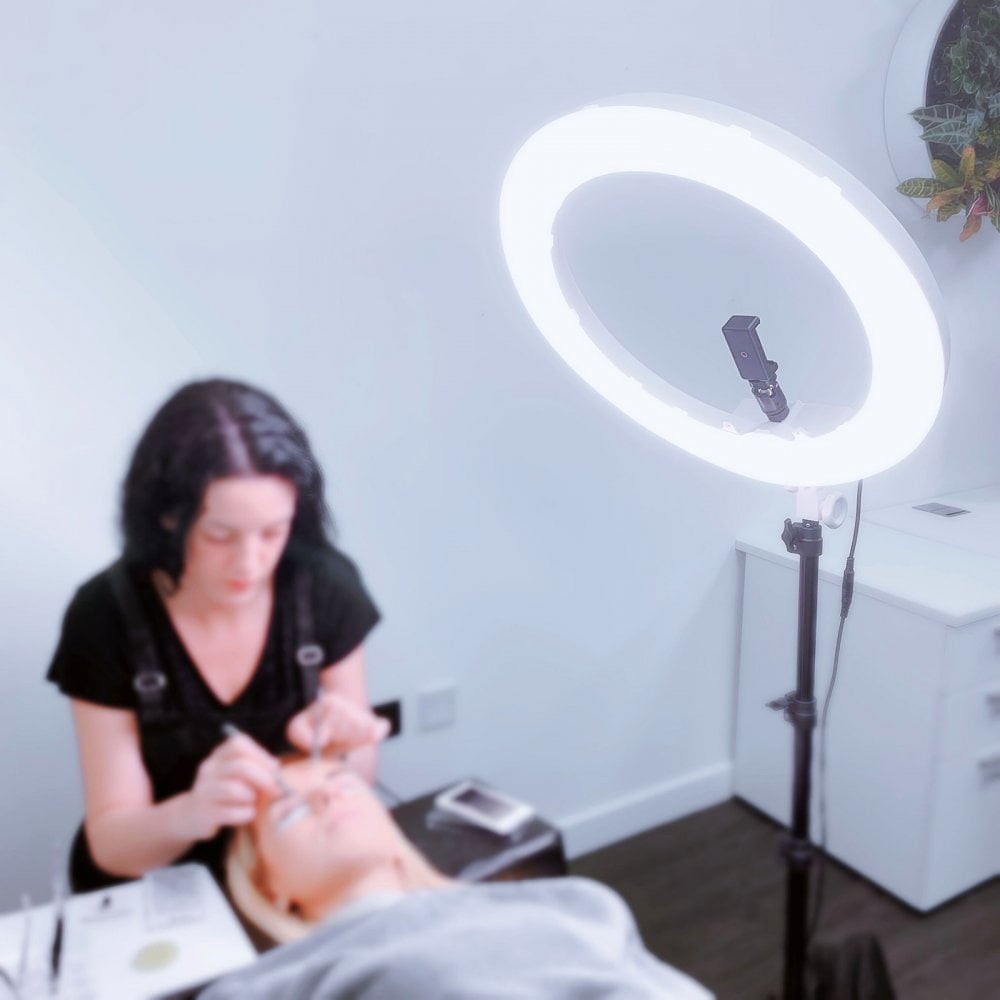 Power
Many larger lamps offer two power options. You can use AC power or battery packs to power the lights. However, it is usually necessary to plug the light into an AC power outlet to obtain full brightness. Larger ring lights also needs more power.
Illumination
Larger ring lights can not only be used to highlight your face, but will also help illuminate larger areas and more backgrounds.
The 10-inch ring light is suitable for close-up shots. If you are mainly use it to makeup tutorials, you do not need lights that can illuminate the entire room. If you want a light, portable, simple and inexpensive ring light, please consider buying something smaller. If you want studio better and professional for your clients, then it may be worth investing in a larger ring light.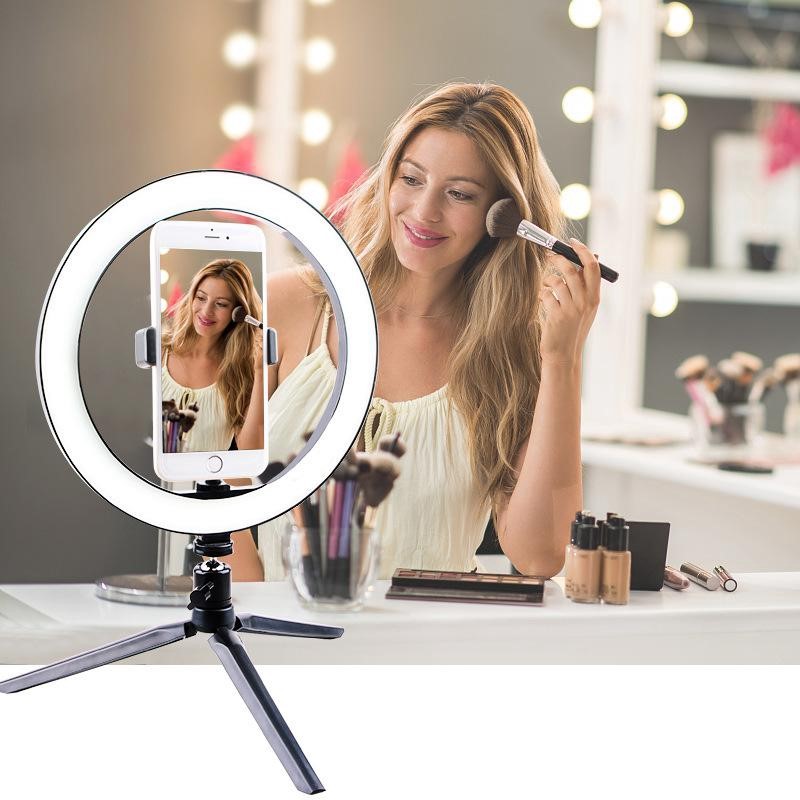 Before buying, please prepare a tape measure, and then imagine the size of the ring light in your studio or bedroom. Please consider whether the tool can be packed or fit in the closet when not in use.
Wescott 18-inch bi-color LED Kit
Comes with orange and white filters, phone holder, ball head, phone holder and bag. This option is a light with diameter of 18 inches, which is ideal for large spaces and shooting where sufficient lighting is required.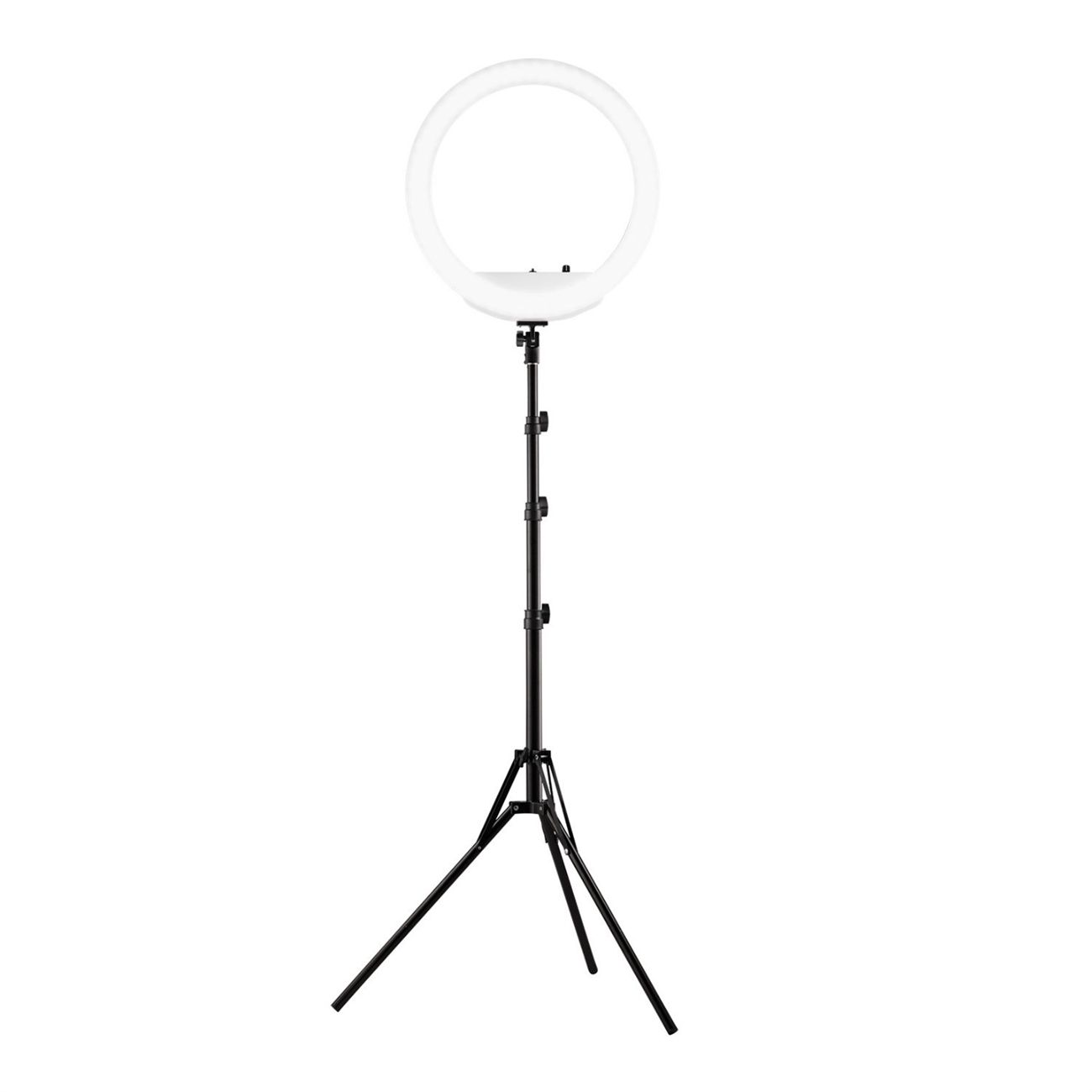 The adjustable brightness, color temperature and smartphone or camera holder are one of the more versatile options on the market. The light is dimmed from 0~100%, and the color temperature is adjusted from 3200K~5600K.
It is also large enough to place a mobile phone or DSLR camera in the center, and is made of a standard threaded ball head, it can also be mounted on a tripod. Finally, its bracket can be adjusted between 19 inches and 71 inches.
The included tripod and backpack allow you to easily carry it with you wherever you are and quickly get into work.
As a constant light source, it is suitable for both video and still photography, but may not reach the brightness of a flash.
The Best Ring Lights for YouTube or Photography
The Neewer 14-inch LED ring light weighs about 5 pounds, extends to 61 inches, and has the same accessories as other biggest size ring light. ring light, from color filters to Bluetooth remote controls.
At 36W with 180 LEDs, the light output is not as high as the larger models, but it is still very bright, which is sufficient for most photography. Similarly, if necessary, there is a sliding dimmer switch.
The waterproof carrying case fits ring light and accessories, and the handle is located on the top for easy carrying. In order to avoid damage to the LED, the bracket is not suitable for being placed in the bag, but folded into a compact size that is convenient for travel.
Although you may only need a ring light to take close-up shots, a selfie ring light big size can provide more possibilities. We recommend the use of 14-inch LED ring lights and 18-inch ring lights. AIXPI ring light store also offers more options. Enter online store from here to choose the best ring light and photography accessories for video.
Related Articles:
The Best Lighting: Ring Light vs Softbox for Video