Most of the workerswho are engaged in video media, especially shooting videos and photos, willunderstand the importance of fill light. Without good lighting, it isimpossible to take a good-looking face. Not only are they unsatisfactory, butthe audience will continue to watch Willingness will be very low.
Therefore,everyone will be aware of the important role of fill lights, and adjustingdifferent lighting atmospheres can better empathize with the audience.Therefore, among different types of fill lights, I think pocket lights areworth recommending to everyone. Next, I will introduce the characteristics andusage experience of the pocket light in combination with the AIXPI pocket lightLP160, let's take a look.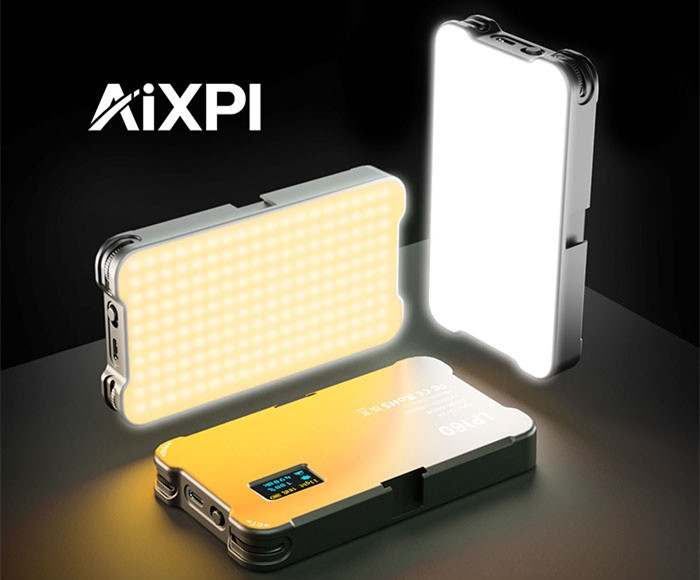 First of all,looking at the appearance, the whole body of the Lp160 pocket light is black,made of ABS+PC material, it is warm and glossy with texture, and the surfacehas a layer of frosted material, which is simple and beautiful, giving people astrong and durable feeling.
In terms oflighting, the lamp bead panel of the Lp160 pocket lamp is composed of 180 warmwhite two-color lamp beads, with a frosted soft plate attached, so that theentire light will be more natural, soft and not dazzling, high lumen, highcolor rendering ( ra≥90) index, restore the real shooting color, thereby reducing theworkload of post-commissioning. It also has a built-in 3100mAH large-capacitylithium battery, which can work for up to 180 minutes under 100% brightnessdisplay. It supports TYpe-C fast charging interface charging, so you don't haveto worry about battery life or the issue of buying additional batteries. Youcan maximize the battery life. Guaranteed battery life and increased user usagetime.
As a pocket light,its most notable feature is its small size and portability. The weight of theentire body of the Lp160 pocket light is about 144g, which is very light andcan be easily put into a pocket. Shooting fill light and creative shooting.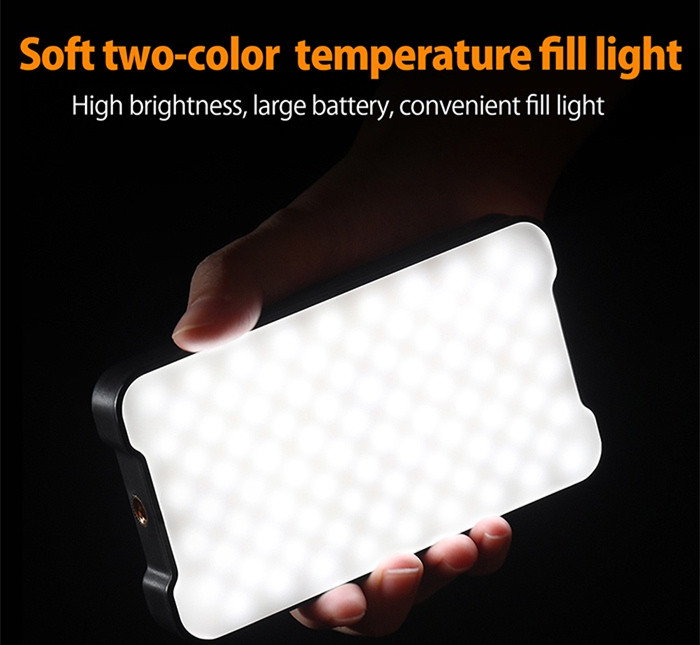 The power switchof the pocket light is located at the top of the fuselage. There are twoadjustment dials on both sides of the switch and a Type-C fast charginginterface for charging, a brightness adjustment dial and a color temperatureadjustment dial. The LED display on the back of the fuselage can be used forcharging. Intuitively check the color temperature and brightness of variouslighting parameters, we turn the color temperature dial, we can adjust one ofits color temperature down or up, the color temperature adjustment range is2400-6400 (k) can be adjusted, the other brightness dial, we dial Move it toadjust the value to find the brightness you want, and the brightness adjustmentrange is 5%-100%.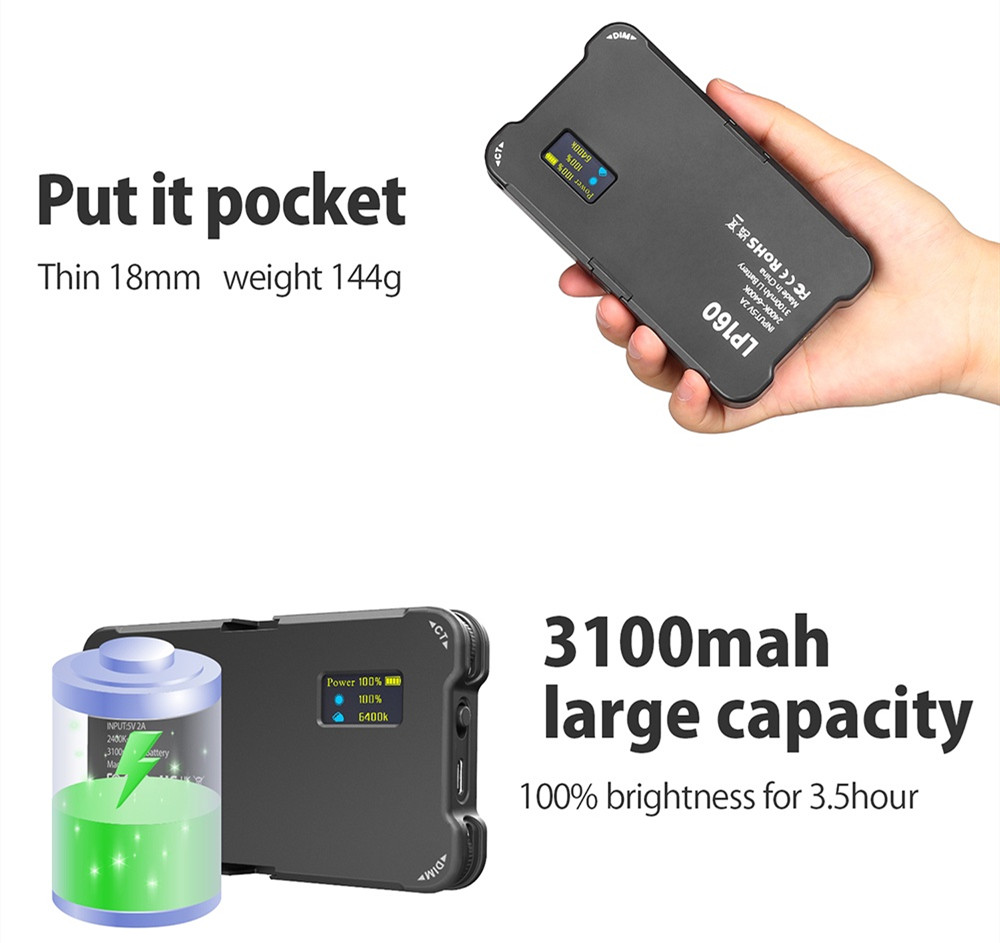 There are two cold shoe ports and universal 1/4 nut ports onboth sides and bottom respectively, which can be directly fixed on the cameraboth horizontally and vertically, and the use is not limited.
For my overallfeeling, I like the light, thin and flexible texture that is small enough andbright enough. It is a "pocket light" in the true sense. The Lp160pocket light is very practical, exquisite and compact, easy to operate, and thebrightness can be adjusted., whether it is going out for filming or shootingfood and snacks at home, it can be flexibly used in various scenes. It is amulti-functional and multi-purpose fill light, and interested friends can tryit.