You need some skills to shoot food photos that can often be seen in blogs, restaurants and popular food magazines. To control your photography lighting, you need to learn to use light. The good news is that you only need a ring light for food photography light setup. How to make a ring light for food photography?
The use of ring light in portrait photography is very important, as is gourmet photography. Light and shadow play a decisive role in photography. If a photo is well grasped, it is not far from success.
Part 1: What Kind of Light to Choose for Food Photography?
When shooting food in the room, try to use natural light as much as possible. If the light conditions of the window are not ideal, for example, cloudy, you can increase the ISO sensitivity, or increase the aperture, and use a larger aperture, which can also make the entire picture brighter and make the real colour more vivid. This way to make up for the lack of natural light.
Part 2: How to Deal with Insufficient Light?
Most of the time you will want to using a ring light or a combination of fill light and softbox to shoot. This light flash will make some places very dark and others whitish. If the food is shiny, it may even produce some untimely light spots. So, in the food shooting, the reflector and soft box are very important auxiliary equipment.
When we use the window nature light, many times we will use the reflector as a supplementary light, which will make the surface of the food illuminated evenly.
Part 3:
How to Use a Ring Light for Food Photography?
AIXPI ring light can provide 3 modes, 30 levels of brightness adjustment, a button to complete simple dimming. You can complete the need for flash and soft box to the food shooting video. The soft brightness and ring aperture make the surface of the food evenly illuminated and brightly coloured.
You can easily take the mouth-watering videos and photos on the delicious food live studio.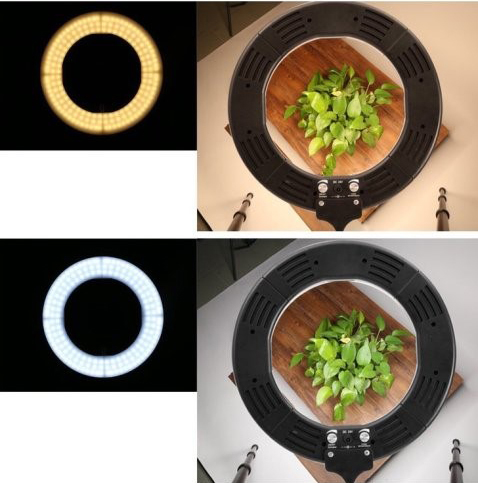 You can also prepare some white or black cardboard, placed on the opposite side of the light source, as a simple reflector.
White cardboard can be used to fill light, the closer to the subject, the less shadows the subject. Black cardboard, can "absorb light" to create shadows, the closer to the subject, the denser the shadow effect.
What Cooking Video Effect Do You Want?
Ring light for food photography, in addition to preparing the tools, you also need to consider a question: what kind of shooting effect do you want?
Do you want uniform, shadow less lighting, or rich light and shadow and layering? Do you want a low-contrast overall atmosphere, or a sense of drama created by the contrast between light and shadow? Do you want a high-key bright picture or a dark background?
There is no saying which method is good or bad, the key depends on the subject you shoot. For example, if you are shooting ice cream, because it has a "summer" mood, and the colors are even and bright, it is often used low-contrast, soft lighting background.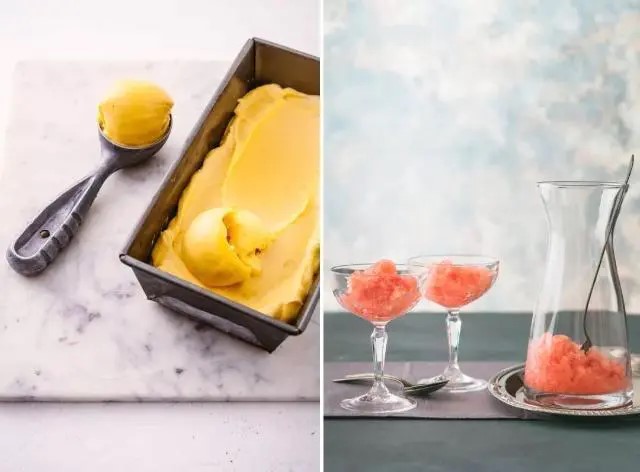 For other foods with complex surface structures, side light may be needed to enrich their details and texture through highlights and shadows, while darkening the background to highlight the subject.
Part 4: How to Make a Ring Light for Food Videos
1. Use a tripod to fix the camera and select a good angle, and then observe it through the viewfinder, place food plates while observing.
2. According to the place with insufficient natural light, place the led ring light and tripod kit.
3. After fixing the ring light through a tripod, switch between 3 modes, and select a suitable colour temperature. Press the "+" and "-" buttons to switch the brightness, and observe through the camera viewfinder until the appropriate brightness is selected.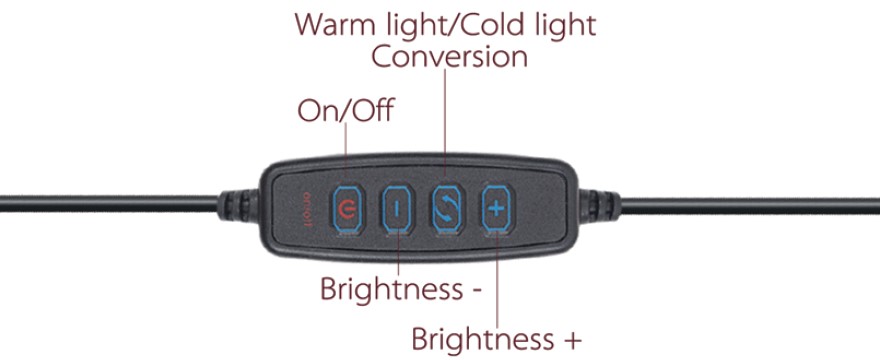 4. With some equipment to change the lighting, such as a soft light board, it is an auxiliary photography tools easy to carry and very convenient.
According to your needs, you can move the reflector in place, and adjust the ratio of light and shadow by adjusting the distance between the reflector and the subject. The height of the light source needs to be adjusted to control the shadow area and display effect. It is best to use side light at the beginning. You can start to try backlighting after you are skilled. Finally, you can experience the effects of side backlighting at different angles.
AIXPI Ring Light for Video
There are many affordable all-in-1 fill LED ring light kits to meet all your needs. For basic YouTube video lighting settings or live streaming videos, this 10" desktop ring light kit only costs $24 is very effective. LED beads can emit soft light. It comes with a ring light, tripod and mobile phone holder.
It is the best affordable to LED lighting for food video beginner, AIXPI Studio Lighting Ring Light provide soft, cool, warm lighting that is energy-saving, lasting, and portable.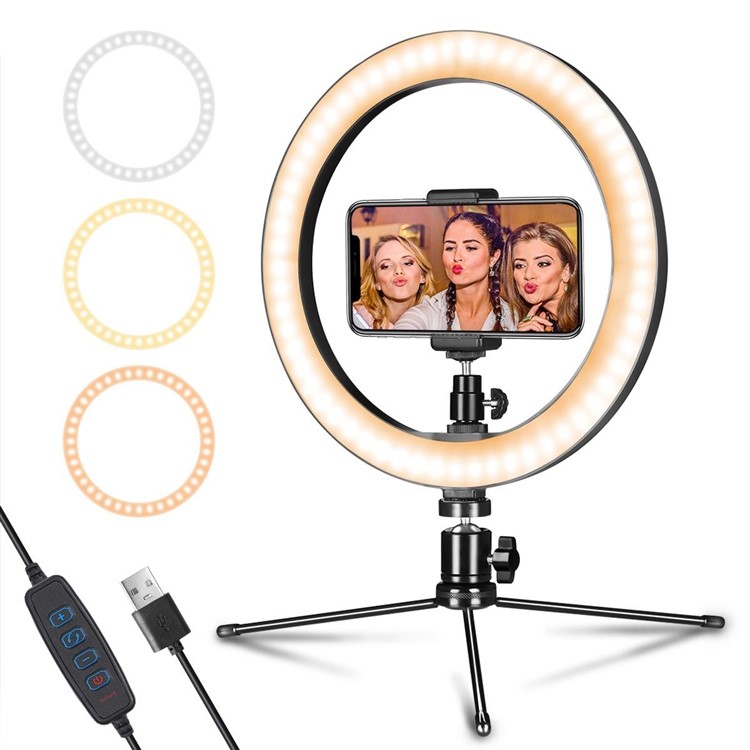 If you want to better control the light, then it is best to use the LED ring light kit. These allow you to focus and adjust the lighting and create more vivid food photo lighting effects.
Founded in 2016, AIXPI is a brand focused on the design, development, manufacturing, sales and service of LED fill lights for live streaming and photography. We have professional equipment, craftsmanship and professional technical team. The products are exported to Europe, America, Australia, Japan, Singapore, Southeast Asia and Hong Kong, Macao and Taiwan.
In the future development, we always adhere to the mission of high-quality, cost-effective, and many types of live streaming equipment products, and strive to provide suitable live ring lights for photography enthusiasts and live studio workers. They also can use for food photography natural light setup.
Related Articles:
How to Choose the Best Live Video Streaming Equipment
How to Use Ring Light to Make Videos