When making video, lighting is essential. Proper lighting makes the video clear and highlights the best position on the screen. Live streamers and YouTubers use the best ring lights for video streaming. What is the best ring light on amazon? To make things easier, I suggest you choose AIXPI L218 ring lights for live streaming.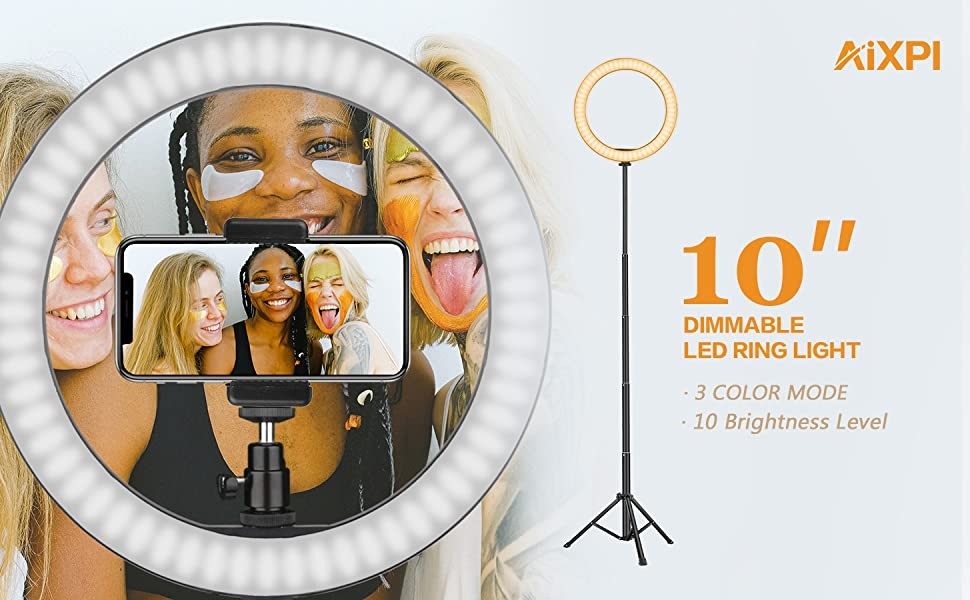 AIXPI ring light provides three kinds of color temperature, whether it is warm, daily, and cool mode, all can meet your needs. Various color temperatures have 10 levels of dimming, allowing you to create a richer video scene. The 360°rotating pan/tilt can provide you with the lighting angle you need in all directions. The high-quality and strong tripod supports your live studio. AIXPI ring light have optional Bluetooth shutter controller and a variety of sizes to tripod stand for buying.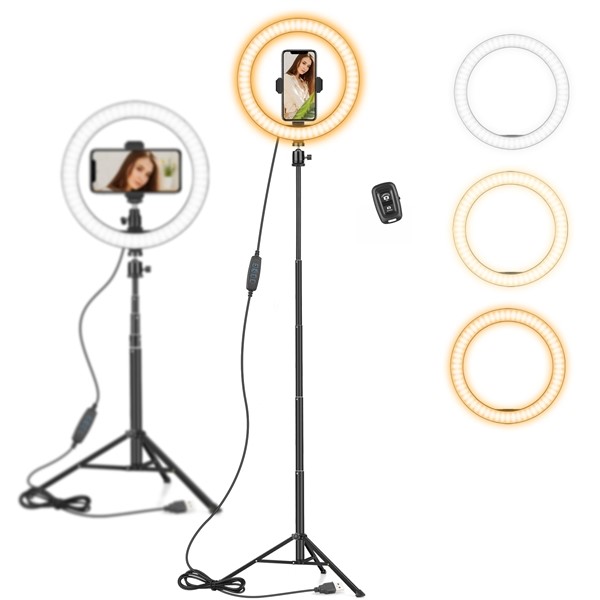 Multiple Bracket Combinations
Detachable tripod, free combination to match various photography scenes
Mobile phone + Bluetooth + bracket

→

the perfect photography kit for outdoor selfie

Long stand + ring light

→

put on the ground can fill light for full body, half portrait, whether it is a video blog or object photography is your best partner

Mobile phone holder + stand

→

free your hands when watching movies and live broadcasts
The

tripod stand

can be extended to a height of 59 inches
Because of its adjustability, no matter how tall you are, you can use it conveniently. You can also use it on the desktop or floor. The phone holder can be used with almost any smartphone.
The installation is simple, the tripod bracket is convenient for storage, and it can be installed by one person. The clip that holds the mobile phone is firmly, it is not easy to fall out, and the storage does not take up space and is very light. It is very convenient whether it is used for recording skin care videos or outdoor vlogs.
Cons:
⊕ Each color mode has 10 levels of brightness
⊕ One year after-sales service
⊕ Adjustable bracket
⊕ Compatible with multiple devices
⊕ Shutter remote control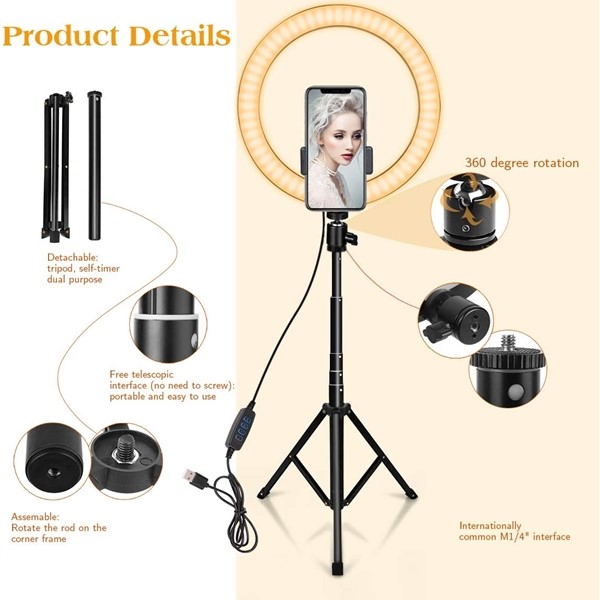 Adjustable Brightness and Color Mode
The ring light used for photography can easily adjust the color temperature and brightness. This is why you have to look for ring lights that can be adjusted to your needs.
The brightness can be adjustable between 1%~100%, and can be adjusted between 2700K~6500K through three color modes. This ring light will be suitable for many photo and video scenes because of its adjustable lighting.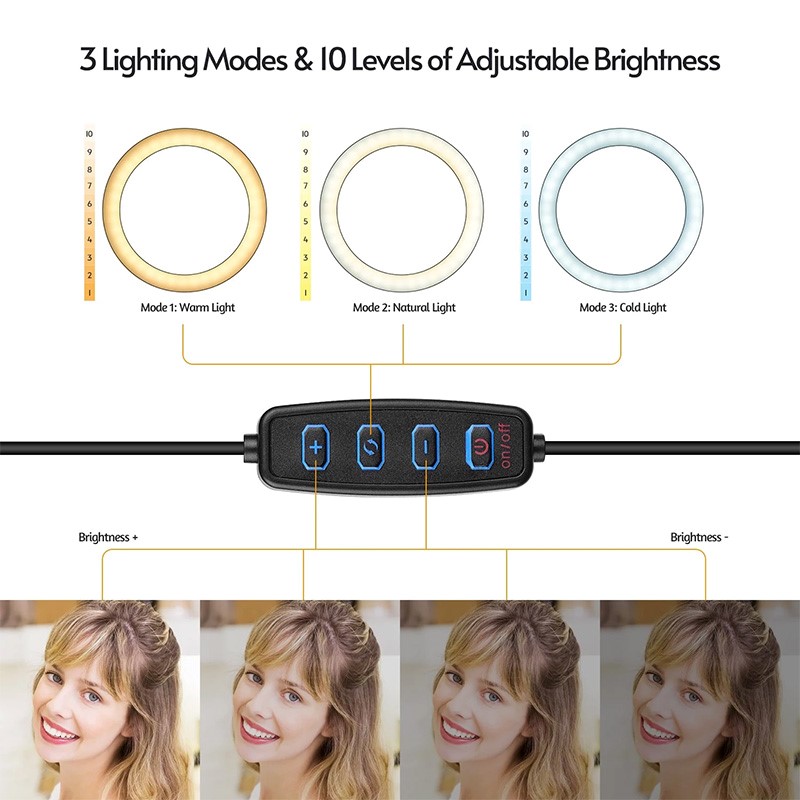 There is a 1/4" international universal screw hole at the bottom of the inner the AIXPI ring light of 10 inches, you can install the mobile phone clip, pull the mobile phone clip about 16cm, it can adapt to most mobile phone models, it is equipped mobile phone clip installed. Normally, if you put the camera in the middle of it, it can assist you in shooting evenly.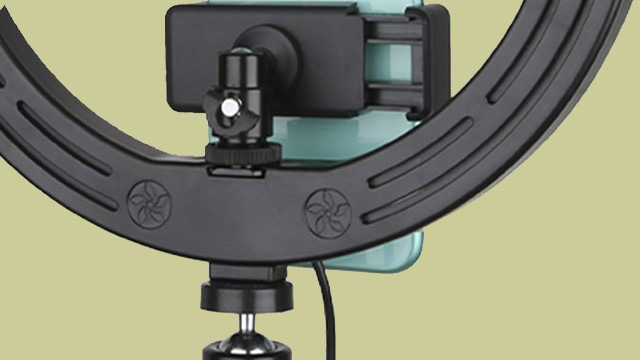 Rotating the mini ball head may help you, but it is not necessary. With a rotatable ball head, you can place the light a little above the subject and tilt it downward. If the ball head is rotated 90 degrees forward or backward, you can use it to reflect light from the ceiling or eliminate down lighting.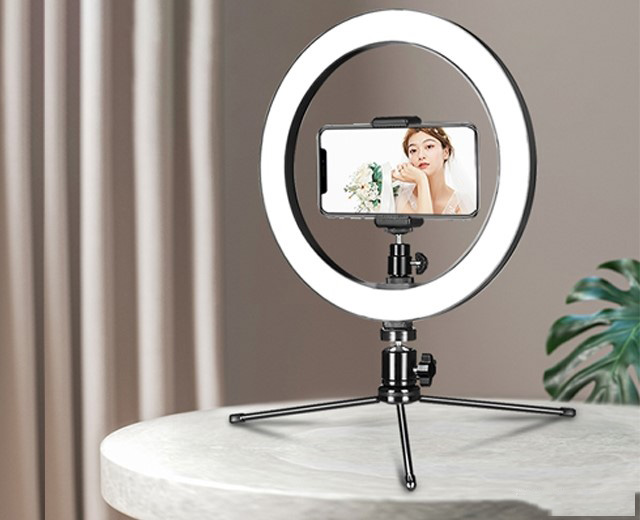 AIXPI L218 ring light is one of the best ring lights for photography because it allows you to adjust the brightness and select the necessary lighting mode from the three available light parameters. The M1/4 pad tilt allows you to place the camera & mobile phone in the center of the ring light for better photos.
Durability
In addition to the use of ABS material to make the shell, AIXPI can maintain stable electrical performance in humidity and high temperature. The lampshade is also made of PC board, which is heat-resistant and cold-resistant, and can maintain stable physical properties for a long time at -20 to 80 degrees Celsius. The combination of PC+ABS materials ensures excellent electrical insulation, improves flexural modulus, heat resistance and safe to use. It provides after-sales service, so you will get all the necessary support within 12 months after purchase.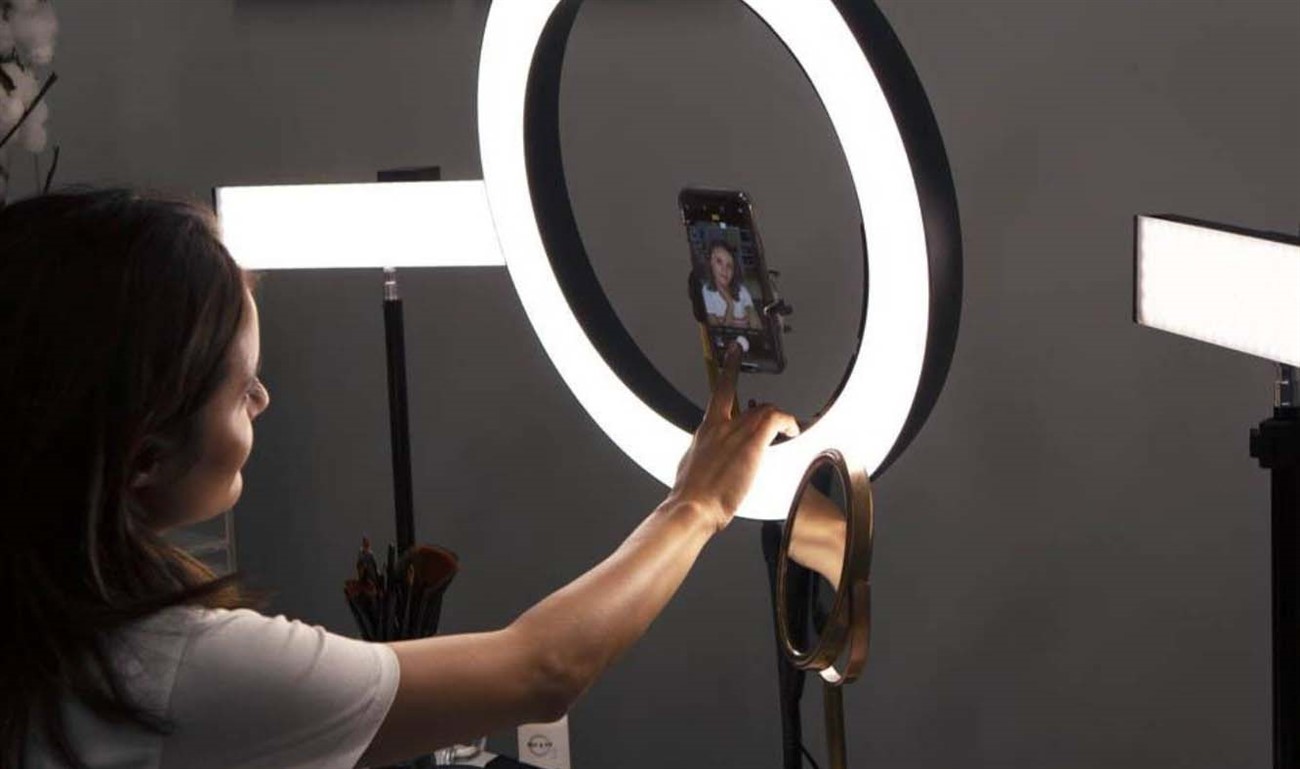 If you want to use lighting for live streaming (brightening the face and creating dazzling eyes) or for still-life photography during micro-photographing, it is recommended the AIXPI L218 10 Inch ring light. With the pan-tilt, the angle of light can be adjusted, and the top and bottom angles can be adjusted for use. You can also put it in your backpack when you outdoors for selfie or find a view.
Here is a detailed display of AIXPI 10 Inch ring light L218 with tripod and phone holder, to give you more about the best ring light design on amazon.
Summary:
According to the aixpi 10 inch led ring light instructions, this AIXPI L218 ring light product is the most comprehensive and suitable for web streaming. It has international specifications for each part of the ring light, making it can be assembled with other photographic products. However, i like the tripod the most because it can be extended from small size to large size. You can use it for full body and half body video.
Related Articles:
The Best Brand Ring Light Review Amazon
How to Get Better Lighting for Live Streaming
What is a Professional Ring Light Kit